Masdar & Uzbekistan sign agreement to develop clean energy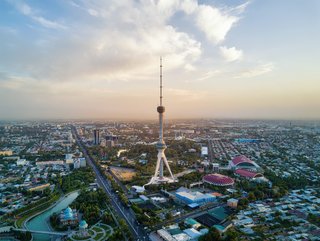 Masdar & Uzbekistan sign agreement to develop clean energy
Leading clean energy company - Masdar - signs joint development agreement with Uzbekistan to develop solar, wind, and battery energy storage projects
On track to become one of the world's larget renewable energy companies, Masdar has announced its joint development agreement (JDA) with Uzbekistan's Ministry of Energy (MoE) and the Ministry of Investments, Industry and Trade (MIIT).
The JDA will see Masda develop over 2GW of solar and wind projects and 500 megawatt-hours of battery energy storage at multiple sites across Central Asia, deepening the relationship between Masdar and Uzbekistan.
Central Asia is a strategic destination for Masdar being abundant in wind and sunshine.
"The UAE is fully committed to supporting countries to decarbonize. Uzbekistan is a key strategic partner, and we continue to work together to deliver renewable energy projects that power homes and businesses, while crucially cutting emissions. The world needs to triple global renewable energy capacity by 2030 to reach the goals set out in the Paris Agreement. As we prepare to host COP28 in the UAE, we believe ambitious partnerships with countries like Uzbekistan are vital in helping to meet this target," said HE Dr Sultan Al Jaber, UAE Minister of Industry and Advanced Technology, Chairman of Masdar, and COP28 President-Designate.
Masdar Activity in Usbekistan
Masdar has been operating in Uzbekistan since 2019, starting out with a 100MW Nur Navoi Solar Project - the nation's first successfully financed independent power producer solar project. The plant became operational in 2021.
Other projects in Uzbekistan for Masdar include the 500MW capacity Zarafshan plant, the largest wind farm in Central Asia. As well as its successful closure of three solar projects in Jizzakh, Samarkand, and Sherabad which have a combined capacity of 900MW making it the largest solar development programme in Central Asia.
Once operational, the project will generate enough electricity to power more than a million homes and displace one million tonnes of carbon dioxide.
"We are making history together in Uzbekistan. "Our agreement to develop 2 GW of solar and expand into 500 MWh of battery storage, marks an exciting new chapter in Masdar and Uzbekistan's shared journey. Uzbekistan is a key partner and Masdar is proud to support its ambitious renewable energy goals," said Mohamed Jameel Al Ramahi, CEO of Masdar.