Egypt Infrastructure & Water Expo
Mon 19 Jun - Wed 21 Jun, 2023
Egypt International Exhibition Center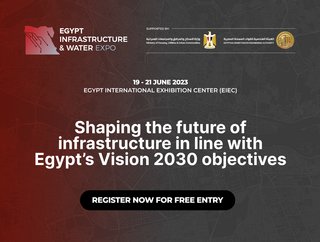 Shaping the future of infrastructure in ;one with Egypt's Visions 2023 objectives
Connecting the infrastructure industry in Egypt
The event will attract those at the cutting edge of Egypt's infrastructure evolution, including public utilities, regulators, operators, city planners, project managers, consultants, contractors and engineers. 100+ exhibiting companies including Hassan Allam Holding, Innovo Build (formerly known as ASGC), Redcon Construction, Green Modeling Contracting, Concord, Concrete Plus, and EDECS make this a must-attend for those who are serious about Egypt's infrastructure plans outlined in Vision 2030.
Pioneers and policy-makers will share experiences, best practices and ways to overcome challenges in asset delivery that will reimagine your business models and strategies.
The show will cover 4 dedicated product sectors: Urban Connectivty, Water & Waste, Utilities and Smart Technologies.
Expect 3 incredible days of infrastructure innovation, business networking and knowledge exchange that will transform your business.
Join us at the launch of Egypt Infrastructure & Water Expo, supported by the Ministry of Housing, Utilities, and Urban Communities and the Egyptian Armed Forces Engineering Authority from 19 - 21 June at the Egypt International Exhibition Center.
Location
Egypt International Exhibition Center
View on map