Investing in Green Hydrogen 2023
Thu 14 Sep - Sun 15 Oct, 2023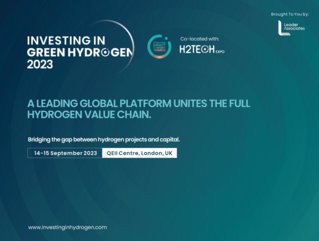 A Leading Global Platform unites the Full Hydrogen Value Chain
Investing in Green Hydrogen 2023 | 14-15 September 2023 | QEII Centre, London, UK
About the event:
Investing in Green Hydrogen 2023 is a leading global platform that unites the full hydrogen value chain. 1,500+ Investors, Project Developers, Development Banks, Financiers, and other stakeholders involved in hydrogen project development from 55+ different countries will come together in London.
Through unique network facilitation and focused sessions per segment, you're sure to get enough leads and insights to instrumentalize capital, scale-up clean hydrogen development, and accelerate the sustainable energy transition. This event is not to be missed by anyone involved in hydrogen project investment & development globally.
IGH2023 event highlights:
IGH Hydrogen Summit: Hear from 80+ world-class speakers. Discuss the most valuable key insights with top-notch stakeholders and decision-makers.
H2TECH Summit: The Technical Summit offers hydrogen professionals the opportunity to showcase cutting-edge technologies and explore innovative solutions for increased operational efficiency, establishing a technology networking hub.
Impact Investment Awards: The Hydrogen Impact Investment Awards are the most coveted recognition for the hydrogen industry, celebrating the outstanding individuals, projects and ideas that are transforming the hydrogen industry.
IGH Networking Programs: IGH2023 is a premier information exchange and business networking platform between multiple stakeholders in global green hydrogen value chain.
IGH Live Exhibition: Your technologies, solutions and knowledge can help shape the Future of Green Hydrogen energy – so don't miss this unique opportunity to showcase your organisation at IGH2023.
IMPACT! Hydrogen Digital Series: The digital intelligence platform that teams up with global hydrogen leaders, administrations, practitioners, and forward thinkers, drives society-wide approaches to the sustainable energy transition.
Visit event website for more information: https://www.investinginhydrogen.com/
Follow us on LinkedIn: https://www.linkedin.com/showcase/investing-in-green-hydrogen/