Digital oilfield market to grow to near £27 billion by 2026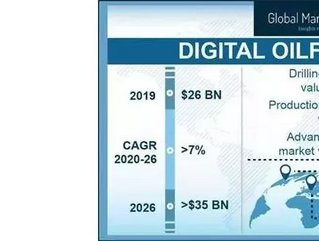 Integrated workflow solutions, cloud-based technologies and IoT will foster industry growth...
The digital oilfield market value is projected to be worth £26.76 billion (US$35.8 billion) by 2026, according to a Global Market Insights report.
Rising focus on integrated workflow solutions, followed by the adoption of cloud-based solutions technologies, will boost the industry outlook while ongoing technological advancements to enhance asset management and operational efficiency will further drive product adoption. 
Production optimisation from the £6.73 billion digital oilfield market will see the integration of field data with existing production management applications, to facilitate a precise and reliable analysis of production parameters.
Significant technological development has improved the recovery rate of a large number of fields which were declared economically unfeasible and non-profitable. 
North America, forecasted to dominate the digital oilfield market, will register over 7 percent CAGR until 2026 and the digital oilfield market by reservoir optimization is projected to grow at over 8 percent in the same period.
Increasing deployment of enhanced oil recovery systems followed by rising number of mature gas fields across Middle East will fuel the product adoption. 
In addition, availability of enhanced solutions including reservoir monitoring control, development planning coupled with equipment management including actuating devices, sensors, and smart alarms have resulted in optimisation of reservoir expansion.  
Wide applicability of IoT based systems to collect data across smart wells, drilling and reservoir monitoring sites will foster industry expansion.
Growth drivers will be volatile crude oil & gas prices, increasing US exploration and production activities, growing number of mature fields in Europe and digital technology investment in the Middle East and Asia Pacific.