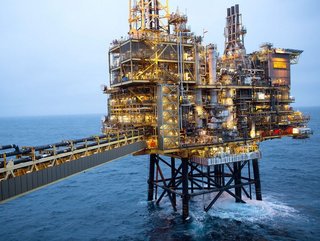 Shell prospers from ongoing energy crisis and disruption to global energy markets following Russia's invasion of Ukraine
Shell continues to capitalise on the energy crisis after reporting a record $9.13bn profit in Q1 and the oil major's adjusted EBITDA of $19bn in Q1 rose from $16.3bn in Q4 2021.
Dividends have increased by more 4% to $0.25 per share for the quarter. Of the $8.5bn share buyback programme announced for the first half of 2022, $4bn has been completed to date. The remainder isexpected to be completed before the Q2 results.

Following what it called "decisive action on Russia", it took $3.9bn of post-tax charges in Q1. Shell exited its joint ventures with Gazprom and related entities in March. These included its 27.5% stake in the Sakhalin-II liquefied natural gas facility, 50% stake in the Salym Petroleum Development and Gydan energy venture. Shell also intends to end its involvement in the Nord Stream 2 pipeline project.
The figures are unlikely to quell calls for a windfall tax as consumers and businesses continue to wrestle with unprecedented energy bill rises.

CEO Ben van Beurden said the war in Ukraine has caused significant disruption to global energy markets and shown that secure, reliable and affordable energy simply cannot be taken for granted.

"The impacts of this uncertainty and the higher cost that comes with it are being felt far and wide," he said. "We have been engaging with governments, our customers and suppliers to work through the challenging implications and provide support and solutions where we can."

Shell believes supporting its customers as they shift to cleaner energy is "the best way for us to contribute to the security of energy supplies".

Changes to Shell's reporting structure see segments categorised under Corporate; Upstream; Chemicals and Products; Renewables and Energy Solutions; Integrated Gas; and Marketing (see video).
Trading results for Integrated Gas were similar to Q4 2021, continuing to benefit from favourable trading conditions.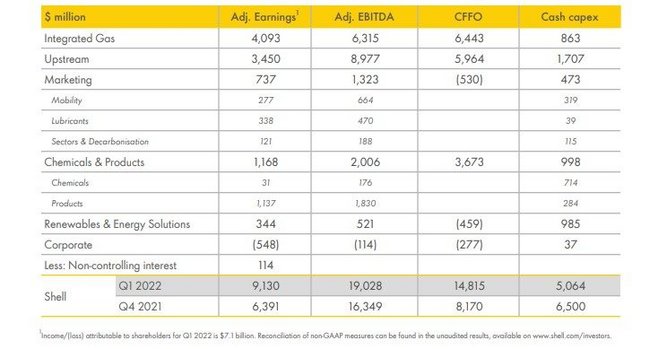 Subsidiary Shell Brasil Petróleo recently signed the Production Sharing Contract (PSC) to formally acquire a 25% stake of the Atapu field and the oil giant paid $1.1bn to Petrobras for the increased stake.
"This transaction is the latest proof point of our commitment to further strengthening our advantaged deep-water positions in Brazil," said Zoe Yujnovich, Shell Upstream Director.
Shell's Powering Progress strategy includes increasing investment in lower carbon energy solutions, while continuing to pursue the most competitive and highest return Upstream investments to sustain material cash delivery into the 2030s.
The company recently bolstered its renewables profile in India after signing a deal to buy Solenergi Power Private - and Sprng Energy group of companies - for US$1.55bn (click here).
Roberto Rivero, Market Analyst at Admirals said given the soaring prices of oil and gas, it is unsurprising to see that Shell has reported another strong quarter, posting its highest quarterly adjusted earnings since 2008.
"As long as oil and gas prices remain high, we can expect Shell and its competitors to take advantage by ramping up production," he said.

"Whilst this may cause a short-term distraction from transitioning to greener energy solutions, it will also eventually lead to prices stabilising and falling as supply catches up with, and subsequently overtakes, demand.
"Looking forward, it will be important to pay attention to the impact on Shell's future business from abandoning its joint operations with Gazprom, which contributed around 3.5% of its net earnings in 2021, and its 10% stake in the Nord-Stream 2 pipeline. The decision to exit these ventures was reflected in its results as a post-tax charge of $3.9 billion.''