BLUETTI showcases innovative energy storage at RE+ 2023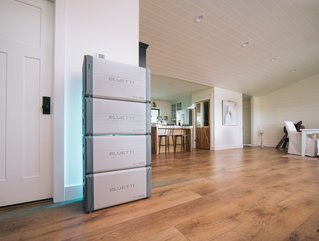 Credit: BLUETTI | The EP900 energy storage battery stack
Delivering a solution to ease the solar energy transition, BLUETTI will exhibit its innovative energy storage system at the US-based event RE+ 2023
BLUETTI, a pioneering provider of energy storage products, is proud to announce its participation in RE+ 2023 (Solar Power International), North America's largest clean energy event. From September 11-14, BLUETTI will display its latest energy storage solutions, contributing to a sustainable energy future.
BLUETTI's Energy Solutions at RE+ 2023
Under the theme "Renewing what's possible," RE+ 2023 brings together top companies and experts in the clean energy sector to present cutting-edge solutions. BLUETTI will take center stage, showcasing its upcoming EP800 system ahead of its official release on September 15.
The EP800 is an off-grid home energy storage system with a power output of 7,600W at 120V or 240V. It meets the energy needs of large household appliances and power tools such as clothes dryers, electric stoves, and pool pumps. Its modular design allows users to choose from two to four B500 battery packs for a maximum of 19,840Wh, which can power an entire home for several days during an extended power outage.
An outstanding feature of the EP800 is its compatibility with existing and newly-installed solar systems using DC coupling. This allows it to store excess solar power at a maximum rate of 9,000W for later use, ensuring a continuous power supply even at night and during blackouts. Additionally, the EP800's installation is hassle-free as it doesn't require any electrical permits. Within hours, it can be up and running under the roof or in the garage, providing sufficient emergency power backup to live off the grid. Its NEMA4X rating enables indoor and outdoor installation, protecting against dust, splash, and corrosion. The EP800's long-lasting LiFePO4 battery and a 10-year warranty ensure worry-free usage for years to come.
Try BLUETTI EP800 Free for 30 Days BLUETTI is currently running an Energy Freedom Program to help households reduce their energy bills and achieve power independence. 30 households with monthly bills over $100 can apply for a free trial of the EP800 system for a full month. After the trial, they can either return the product at no cost or keep it for an incredible 40% off the retail price. Give it a try as the trial is totally money and worry free. All it takes is a few clicks to sign up, and BLUETTI will take care of everything from shipping to installation.
BLUETTI's new arrival is further proof of the company's strong R&D capabilities and focus on user needs. Before the EP800, BLUETTI launched the EP900, a 9,000W on/off-grid system that has been very successful in the market. Using the same B500 batteries, the EP900 also offers a flexible capacity from 9,920Wh to 19,840Wh. Both the EP900 and EP800 share features such as a long-life LiFePO4 battery, a 10-year warranty, BLUETTI APP connectivity, and peak-load-shifting function. Users can store low-cost grid power during off-peak hours and discharge it during peak hours, optimizing energy consumption and saving on energy bills. Those with rooftop solar can benefit even more from this grid-tied battery system. The EP900 comes with triple MPPT charge controllers that maximize solar input at 9,000W, making it easier for users to achieve solar energy independence and earn additional credits by selling excess solar power back to the grid.
In addition to powering homes, BLUETTI recognizes the diverse energy needs of customers outside the house and has developed a range of portable energy storage products. Among the most popular products are the camping companions EB3A, EB55, EB70S, and the mid-size RV travel must-have AC200P.
At RE+ 2023, BLUETTI will spotlight its two new offerings: the water-resistant AC60 and the powerful AC180. The AC60 has a capacity of 403Wh in a compact package weighing only 9.1kg. It is also expandable with up to two B80 battery packs, bringing its peak capacity to 2,015Wh. Featuring industry-leading Power-Lifting technology, the AC60 can handle resistive loads up to 1,200W, including electric blankets, kettles, hairdryers, and other heating devices. With an IP65 rating for dust and water resistance, the AC60 can power more scenarios such as boating, beach parties, sailing, and more. Charging the AC60 is easy and flexible, either via wall outlets, solar panels, or car ports. It takes just one hour to fully charge the AC60 with 600W fast AC charging.
The AC180 delivers a powerful 1,800W of continuous power and can handle heating devices up to 2,700W in Power Lifting mode, making it suitable for all off-grid essentials from BBQ grills to refrigerators, and heaters. Its 1,152Wh power storage provides ample juice for devices without compromising mobility. With built-in handles, it can be carried anywhere. A variety of outputs, including AC outlet, USB-A, USB-C, 12V DC outlet, and wireless charging pad, are designed for versatile charging for off-grid living or emergency backup. It also supports a 45-minute charge from 0% to 80% with 1,150W turbocharging.
Both generators have garnered rave reviews since their debut, and their offline versions will be available this September.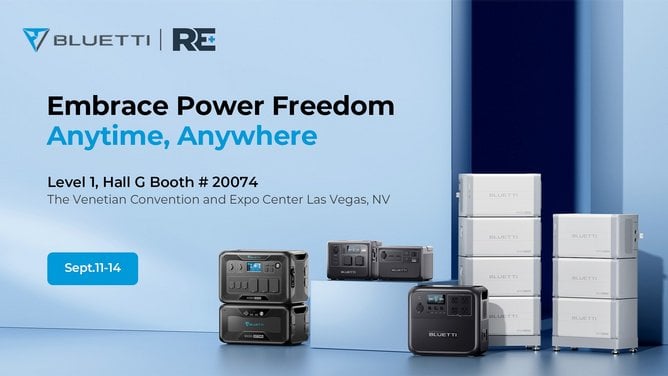 Embrace power freedom anytime, anywhere, with BLUETTI—featuring at the RE+ Fair
Event Details
- Date: Sept. 11 to Sept. 14, 2023
- Time: 10:00 a.m. to 6:00 p.m. PDT
- Booth: #20074, Hall G, Level 1
- Location: The Venetian Convention and Expo Center, Las Vegas, NV
At RE+ 2023, BLUETTI has prepared a series of expert presentations and product demonstration sessions, allowing the audience to get an up-close look at its state-of-art energy storage products and engage in in-depth conversations with BLUETTI's technical experts. The company also plans to host various interactive activities to enrich the overall experience for visitors.
BLUETTI's participation in RE+ 2023 is a testament to its commitment to making clean energy accessible to every household for a sustainable future. Through its latest offerings, BLUETTI is introducing eco-friendly energy solutions for an easy transition to solar power and energy independence. Don't miss the opportunity to visit the BLUETTI booth at RE+ 2023 and experience the future of clean energy.
About BLUETTI
BLUETTI has been committed to promoting sustainability and green energy solutions since its inception. By offering eco-friendly energy storage solutions for both indoor and outdoor use, BLUETTI aims to provide exceptional experiences for our homes while also contributing to a sustainable future for our planet. This commitment to sustainable energy has helped BLUETTI expand its reach to over 100 countries and gain the trust of millions of customers worldwide.
Disclosure: This article is an advertorial and monetary payment was received from BLUETTI.
******
For more energy insights check out the latest edition of Energy Digital Magazine and be sure to follow us on LinkedIn & Twitter.
You may also be interested in Sustainability Magazine and EV Magazine.
Please also check out our upcoming event - Sustainability LIVE in London on September 6-7 2023.
BizClik is a global provider of B2B digital media platforms that cover Executive Communities for CEOs, CFOs, CMOs, Sustainability Leaders, Procurement & Supply Chain Leaders, Technology & AI Leaders, Cyber Leaders, FinTech & InsurTech Leaders as well as covering industries such as Manufacturing, Mining, Energy, EV, Construction, Healthcare + Food & Drink.
BizClik – based in London, Dubai, and New York – offers services such as Content Creation, Advertising & Sponsorship Solutions, Webinars & Events.