bp to invest £1bn in UK EV charging infrastructure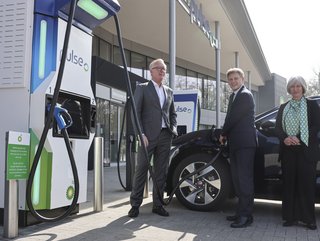 Oil major bp's EV investment coincides with new UK Government electric vehicle charging infrastructure strategy and follows Plugging The Gap report
bp today announces a £1bn investment for UK electric vehicle (EV) charging infrastructure - following a recent report warning charge anxiety now surpasses range anxiety as the biggest concern for EV drivers.
The investment, which will see a tripling of charging points by 2030, was unveiled during an official visit by Transport Secretary Grant Shapps to bp pulse's UK headquarters in Milton Keynes - which coincided with a new UK Government electric vehicle infrastructure strategy that aims to install 300,000 public chargers "as a minimum" by 2030.
bp said it will accelerate the roll out of 300kW and 150kW ultra-fast charging points that are able to provide EV drivers up to 100 miles of range in around 10 minutes of charging, depending on the electric model.
Shapps acknowledged "convenient, reliable and affordable charging" is key to the green revolution and this investment will make it easier for drivers up and down the country to go electric.
Richard Bartlett, senior vice president, bp pulse said: "This investment allows us to deliver more high-speed charging in dedicated hubs and on existing fuel and convenience sites, and more home charging services. And crucial enhancements to our digital technology that will make charging fast, easy and reliable."
Speaking on the BBC Radio 4 Today programme, Shell UK Chair David Bunch said it aims to ramp up its charging units to 50,000 by 2025.
"One of the main concerns for our customers, and for us, is the lack of availability," he said. "Four years ago, we redeveloped one of our electric forecourts in Fulham, but it took four years to build, and that wasn't really the technology or funding but the planning, permitting process and grid connection, so this new proposal from the government addresses some of the key areas."
bp pulse plans to help electrify the UK's fleet vehicles and intends to help accelerate the roll-out of EV charging solutions to businesses, and is working with Royal Mail, Uber and emergency services in London and Scotland.

Mike Hawes, chief executive for the Society of Motor Manufacturers and Traders (SMMT), welcomed the significant contribution to the UK's rapid charging network, delivering additional capability which will help assure EV drivers and support the fast-accelerating market for high-powered battery electric vehicles. Last year saw 190,000 battery-powered electric vehicles (EVs) sold in the UK.
The SMMT recently published its Plugging The Gap report, in which it highlighted how public charging infrastructure expansion has failed to keep pace with EV uptake, and that manufacturer investment in battery technologies and efficiency optimisation means "range anxiety has been replaced by charging anxiety". It calls for a 'dramatic expansion' of charging infrastructure.
"Despite a commendable growth of more than 3,000% in public charging infrastructure since 2011, inadequacy of infrastructure provision is still a concern for consumers and is a barrier to mass uptake," it states.
"Although most current EV users charge at home, they also still routinely use public chargepoints. These are fundamental to consumer confidence and will be essential for the one-third of British households that do not have off-street parking. Many commercial and grey fleets will also heavily rely on this network."
Public charger provision varies regionally, with one standard public charger for every 67 plug-in cars in the North West, compared with one for every nine in London.
"The problem may not be a lack of chargepoints, but that public chargers will be increasingly inadequate, inequitable and disproportionately distributed as plug-in vehicle uptake accelerates," it notes.
It recommends charging infrastructure expansion places consumers at the heart of strategy, and must be accessible and affordable for all, based on adequacy (ease of finding an available, working chargepoint); experience (charging should be at least as easy as refuelling); and equity (an evenly distributed network where users are not unfairly financially penalised compared with those who have home chargers).
Pilgrim Beart, CEO and co-founder of DevicePilot, said a tenfold increase in electric charge points is a start, but the UK is still deeply divided between the EV "haves and have-nots".
"There needs to be a more even distribution of EV funding across the nation, since many local councils are yet to receive a penny from the Government, while others are flush for EV investment," he said.

"There's also a big major issue, since many potential EV buyers are still yet to be convinced that it's a seamless experience. First and foremost, chargers need to work. They need to provide the same experience as the petrol pumps, but they are too often malfunctioning, occupied or in need of repair. We need investment in the quality of the UK's EV infrastructure, not just its quantity."