Renewables firms 'over-reliant on shallow talent pool'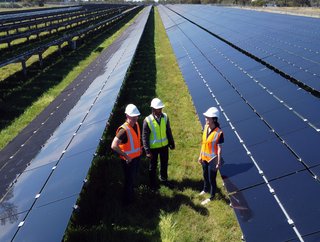 Airswift and Energy Jobline report finds renewables firms more likely to poach staff as digital growth means energy staff eye technology sector
Renewables firms are over-reliant on a shallow pool of skills within the sector and risk a talent exodus to outside industries, according to the sixth annual Global Energy Talent Index (GETI) report from Airswift and Energy Jobline.
They surveyed 10,000 energy professionals and hiring managers in 161 countries across five industry sub-sectors: oil and gas, renewables, power, nuclear and petrochemicals.
Their research found hiring managers are more likely to seek technical skills from other green energy firms than in-house or outside, intensifying competition for limited skills within the sector.
Most professionals say renewables firms should shore up their skills to cope with a changing energy landscape by focusing on offering learning and development, retraining and mentoring for existing employees before hiring outside talent. The focus on outside hires over talent development could also threaten talent retention, with career progression the primary driver for the majority considering leaving.
The report also identified that 77% of renewables professionals would now consider leaving for another industry within three years, with technology the most popular choice. Three-quarters would consider leaving for another energy sector with oil and gas and power the most popular due to close skills overlaps. Yet more mobile workers with transferrable skills are also helping the industry with 21% of its workforce joining from other sectors within the last 18 months.
The accelerating energy transition means technical skills are now considered the most important for creating a flexible, future-proof renewable workforce and engineering is the most sought-after technical skill amongst new hires. The skills shortage is also boosting opportunities for professionals by driving up green energy salaries. Forty per cent of professionals report receiving a salary increase compared with 35 per cent last year, and 61 per cent expect a pay rise within 12 months.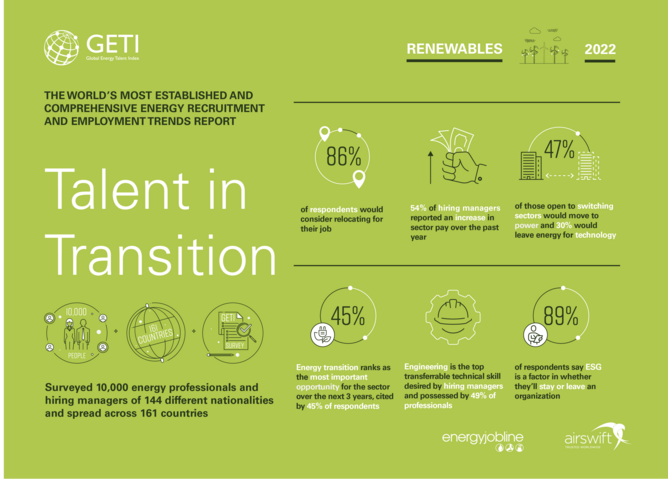 Janette Marx, CEO at Airswift, said renewables firms are mostly competing for technical skills within their own sector rather than growing in-house talent or recruiting outside.
"With career progression and innovation, the main drivers for career changers, companies could attract talent from other industries by offering fast-tracked promotions and the chance to drive renewable innovations such as floating wind platforms," she said.
"Renewables firms could also offer more international transfer opportunities and project-based work to attract a globally mobile workforce willing to relocate for career progression." Other key findings:
The skills gap has sent salaries soaring with 18% of professionals reporting salary increases of more than 5% over the past year – a claim supported by 29% of hiring managers
86% would relocate for work in the next three years and Europe is consistently the first-choice destination for 32% of professionals due to its world-leading position in clean energy
The industry is turning to a mix of international talent and contractors with 31% of the workforce composed of expats and more than half of hiring managers reporting that over 20% of their workforce are contractors
Johanna Schmidtke, Lecturer, University of Colorado Denver Global Energy Management, said accelerating digitalisation of renewable design and maintenance has created surging demand for digital as well as engineering skills.
"This has put the sector in direct competition with outside industries such as technology," she said. "The new generation of tech talent values self-actualisation and innovation and this ties in perfectly with a renewable industry experiencing major growth and at the vanguard of future energy technology."
Click here to read the full report.