Kyocera Announces Largest Floating Solar Farm in the World
2 min
  The world may already be familiar with offshore wind, but what about offshore solar? Japanese technology giant Kyocera has ann...
The world may already be familiar with offshore wind, but what about offshore solar?
Japanese technology giant Kyocera has announced the beginning of one of its most ambitious projects yet: a floating solar farm. The project, which will have a generating capacity of 2.9 MW, is being undertaken in partnership with Century Tokyo Leasing Corp.
Floating solar aims to solve one of Japan's biggest issues with solar: the lack of space for large-scale installations. There are concerns in the country that solar installations take up much-needed agricultural land.
The project will be comprised of two different installations with a 1.7 and 1.2 MW generating capacity. Both will be in Kato City in Hyogo Prefecture.
Kyocera also believes the water will help keep the panels cool, allowing for a higher efficiency rate. This isn't the only benefit, though. According to the company, floating solar panels prevent algae growth by shading the water, are 100% recyclable, and can withstand extreme weather conditions such as typhoons.
While the concept of a floating solar farm sounds revolutionary, France's Ciel et Terre—a partner on the project and supplier of panels—has had a floating farm since 2011. According to New Civil Engineer, the project will be based on the company's Hydrelio concept.
"A basic module is formed from two blow-moulded floats made with HDPE (high-density polythene) plastic," they explain. "One float supports the solar panel and the other provides a tab connection to other floats, and also provides maintenance access. The floats are then joined together to form solar 'islands', using connection pins." For a visual explantion, see this image: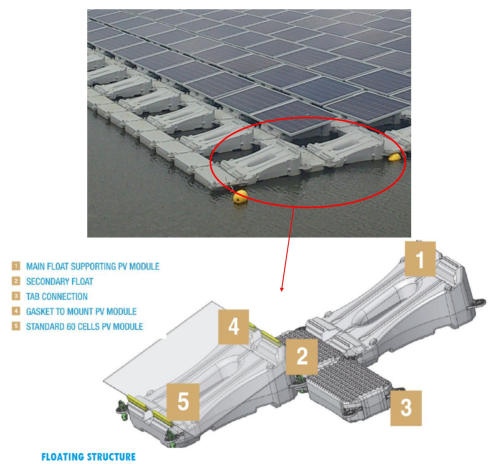 The project is expected to be completed in March of next year.