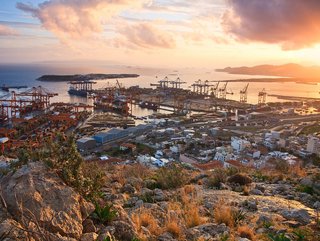 Siemens Energy report on electrification of European shipping fleet highlights the worst ports for carbon dioxide emissions
A new report from Siemens Energy, Decarbonising maritime transport - a study on the electrification of the European fleet, considers how small and large ferries play an important role in European transport, and the electrification of such traffic is becoming an effective and readily available solution for reducing carbon emissions.
However the industry faces many challenges on its course to decarbonisation. The ferry fleet in Europe is on average 35 years old, with 65% of vessels more than 20 years old, meaning that during this decade, more than half of the fleet will need to be replaced.
As part of its research, the report highlights the top 10 ports that are producing the most CO2.
10: Paloukia
Seafaring is a vital part of the history of Greece. Its geography, a large peninsula and thousands of islands throughout the Aegean and Ionian Sea, requires transport of people and cargo. This includes local residents and in recent decades a large number of tourists.
The Greek ferry fleet consists of 98 vessels, with 88 flagged and most of which forming smaller ferries (<150m). These vessels mainly traffic routes to Greek islands and close neighbouring countries such as Turkey, Albania, and Italy.
The highest frequency crossing is the short route between Piraeus and Paloukia, while the most emissions intensive crossing is from Aegina to Piraeus (mainland) and Rafina Port (Pikermio, mainland) to Tinos (island in Aegean Sea).
09: Genoa
Ferries provide an important transport alternative in Italy. With a coastline of 7600km and several large and small islands require connections to the mainland making the Italian ferry fleet the second largest in Europe, behind Norway. Genoa is a pivotal port in the Mediterranean, in a global shipping industry characterised by carrier upsizing and mega liner alliances.
The Italian Ministry of Sustainable Infrastructure and Mobility recently published a 10-year plan for enhancing mobility services in Italy in line with the new global goals for sustainable development, including climate stability.
08: Port of Ferraio
Portoferraio is the capital and the main port of Elba Island and is located on the north-eastern coast of Italy, at the foot of a promontory that borders the bay.
The Italian ferry fleet consists of 107 vessels, with 94 flagged in Italy. Total ferry-related emissions in Italy are 697,000 tons CO2.
07: Travemunde
Travemunde ferry port, in Germany's northern borough of Lubeck, is located at the mouth of the river Trave and it is Germany's largest ferry port on the Baltic Sea.
German ferry traffic is mainly focused on the Baltic Sea and to its neighbouring countries of Denmark and Sweden, and ferries operating between Travemünde-Trelleborg and Rostock-Trelleborg are the most emissions intensive.
06: Puttgarden
The German port of Puttgarden is an important cargo port. The ferries that operate the Puttgarden-Rødby connection today have hybrid-electric propulsion that reduce emissions, and there are now plans for fully electric ferries to operate this route - on what will soon become the world longest course operated by a full electric ferry. This measure alone has the potential to reduce total German ferry emissions by 13%.
05: Palermo
The port of Palermo in Sicily is one of the major ports for passenger traffic in the Mediterranean.
Italian ferries travel between the mainland and the islands of Sicily and Sardinia, as well as neighbouring countries of France (Corsica), Albania and Greece.
There are also many routes to smaller islands all along the coast. The highest frequency crossing is the Sicily ferry (Villa San Giovanni-Messina), while the most emission intensive crossings are between mainland Italy to Sardinia (Civitavecchia-Cagliari) and mainland Italy to Sicily (Naples-Palermo).
04: Livorno
The Port of Livorno is one of the largest Italian seaports and one of the largest seaports in the Mediterranean, with an annual traffic capacity of around 30mn tonnes of cargo.
In 2016, Ericsson Research and the Italian Interuniversity Consortium for Telecommunication (CNIT) began cooperation on the "Port of the Future" project at the port – piloting 5G, IoT, virtual and augmented reality (VR/AR) and AI as part of port operations - and it remains a focus for digital innovation.
03: Naples
The Port of Naples is one of the largest seaports in the Mediterranean basin having an annual traffic capacity of around 25mn tons of cargo ferry and the maritime-oriented southern Italy city also boasts a cruise port right in its centre. The port employs some 4,800 people and caters to more than 64,000 ships every year.
02: Messina
Port Messina is cruise port known as 'the door to Sicily', and separated from mainland Italy by Strait of Messina (width 5km / 3 ml). Messina is the island's third largest city with a population of around 240,000.
01: Piraeus
Piraeus is, by some distance, the largest maritime emitter in Europe, according to the report.
The highest frequency crossing is the short route between Piraeus and Paloukia, while the most emissions intensive crossing is from Aegina to Piraeus (mainland) and Rafina Port (Pikermio, mainland) to Tinos (island in Aegean Sea).
Ferry traffic itself accounts for about 2/3rd of emissions. In Greece, ferries spend more time in port and correspondingly a larger part of emissions are produced there - calculated to about 37%.
Total ferry-related emissions in Greece are 310,000 tons of CO2.