Ofwat allows retailers to raise prices from April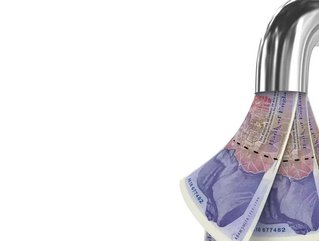 Ofwat confirms levels of bad debt costs across the business retail market are exceeding 2% of non-household revenue
Retailers can recover a portion of excess bad debt by temporarily increasing prices from April 2022, according to an Ofwat statement.
The regulator confirmed its view that levels of bad debt costs across the business retail market are exceeding 2% of non-household revenue, thereby allowing "a temporary increase" in the maximum prices. Adjustments to price caps will apply for a minimum of two years to reduce the step changes in price that customers might experience.
Measures introduced since March 2020 to contain the spread of Covid-19 could lead to retailers facing higher levels of customer bad debt. Retailers' abilities to respond to this are expected to be constrained by Ofwat strengthening protections for non-household customers during Covid-19 and the presence of price caps.  
In April last year, Ofwat committed to provide additional regulatory protection if bad debt costs across the market exceeded 2% of non-household revenue. 
Georgina Mills, Business Retail Market Director at Ofwat said: "These decisions aim to protect the interests of non-household customers in the short and longer term, including from the risk of systemic Retailer failure as the business retail market continues to feel the impacts of COVID-19. By implementing market-wide adjustments to price caps, we aim to minimise any additional costs for customers in the shorter term by promoting efficiency and supporting competition."  
There are also three areas where Ofwat has not reached definitive conclusions and is seeking further evidence and views from stakeholders:   
Pooling excess bad debt costs – Ofwat proposes that the recovery of excess bad debt costs is pooled across all non-household customers, via a uniform uplift to price caps. 
Keeping open the option of not pursuing a true up – For example if outturn bad debt costs are not materially higher than the 2% threshold. 
Undertaking the true up – If a 'true up' is required, Ofwat has set out how it expects this to work in practice. 
Further consultation on the proposed adjustments to REC price caps can be expected by December.
Anita Dougall, CEO and Founding Partner at Sagacity, said Ofwat's decision comes hot on the heels of Ofgem's price cap rise in April.
"While it's great that regulators are helping the industry deal with bad debt in the wake of the pandemic, raising prices only treats the symptoms. Instead, water companies should head upstream, using customer data to identify and rectify the causes of bad debt, stop it at source and help prevent it from occurring in the first place," she said.
"While recouping costs is a must, water companies shouldn't just rely on the regulator. Data can help companies segment customers, identify and assist customers that are struggling financially, avoiding penalising the entire customer in tackling the cause of the issue."
United Utilities picks up pipeline award
A race-against-time plumbing job to connect four huge water pipes into the large Haweswater Aqueduct in Cumbria saw United Utilities awarded Utility Project of the Year by Pipeline Industries Guild.
The Hallbank project, near Kendal, was completed within a tight eight-day deadline, in a storm and during the second COVID lockdown last November – and with three hours to spare. Principal construction manager John Dawson said the project helped boost the resilience of water supplies across the North West.
"I think what made us stand out was the scale, the use of future technology and the fact that we were really just one team, working collaboratively for a common goal," he said.
Camus Energy secures $16m funding
Camus Energy, which provides advanced grid management technology, has secured $16 million in a Series A round, led by Park West Asset Management and joined by Congruent Ventures, Wave Capital and other investors, including an investor-owned utility. Camus will leverage the operating capital to expand its grid management software platform to meet growing demand from utilities across North America.
As local utilities look to save money and increase their use of clean energy by tapping into low-cost and low-carbon local resources, Camus' grid management platform provides connectivity between the utility's operations team, its grid-connected equipment and customer devices.