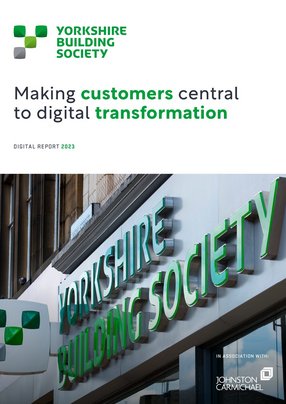 YBS: Making customers central to digital transformation
In recent years, Yorkshire Building Society has undertaken a transformational journey – one that starts and ends with the customer
When Yorkshire Building Society's (YBS) Chief Commercial Officer, David Morris, and Director of Business Transformation, Ben Sampson, join me to discuss the seismic change that the mutual has enjoyed over the last five years, there's more than 100 miles between them. Morris is joining from Oxfordshire in the south of England, while Sampson is dialling in from Halifax in the north. It's a sign of the times – in business today, it's not unusual for colleagues to be separated by postal codes, time zones or even oceans. But it's also a mark of how far Yorkshire Building Society has come since it was founded in 1864.
YBS can trace its roots back more than 150 years to the Huddersfield Equitable Permanent Benefit Building Society, whose members would meet each morning from 5-8am – not on Zoom, but in a single room in the Yorkshire town. Early directors of the society included a dentist, a shoemaker and a plumber. At the end of the first year, there were just six borrowers and assets of around £4,000 – over £400,000 in today's money.
The name itself stems from the West Yorkshire Building Society, which was founded two years later in Dewsbury – a short six-mile hop from the town of Huddersfield. For over 100 years, the two building societies operated in separate orbits – orbits that would rarely stray outside this small, 10-mile patch of northern England. In 1982, the West Yorkshire Building Society and the Huddersfield Building Society merged with another local mutual, the Bradford Building Society, to create the entity that exists today.
It is a history of consolidation: in the years after the merger, the newly rebranded Yorkshire Building Society would gradually accumulate more of its peers from across the UK, slowly increasing its sphere of influence and growing steadily in size. The Haywards Heath, Barnsley, Chelsea, and Norwich & Peterborough Building Societies were all subsumed into YBS and today the group has a balance book in excess of £55bn.
Is its Yorkshire heritage still important?
Being local and mutually owned means that Yorkshire Building Society is motivated by its members, not by a distant shareholder who they've never met. Everything that YBS does is for the service of its members.
"I don't actually think we are local at all anymore," Morris says. "We've got a national branch network, a sophisticated digital footprint across all our brands and we've obviously got customers from all over the British Isles. We've got customers in Northern Ireland, Scotland, Cornwall, and a huge London presence."
Instead of thinking local, YBS today thinks about local values. It has expanded far beyond Yorkshire's borders, but the organisation is still proud of its heritage and is committed to upholding the traditional values that are said to define this beautiful part of the world: humanity, empathy, honesty, and a sense of doing the right thing.
"I'm a proud Yorkshireman. I'm a local lad," says Ben Sampson. "I love coming to work at the Yorkshire Building Society because whilst we're national and we make a national impact, I think the culture and the roots of the business feel very Yorkshire. If you ask a Yorkshireman what they think about being from Yorkshire, they'll use words like openness, integrity, fairness and honesty – and I think we have a culture that really thrives on that."
Defining a clear purpose in the world
In every organisation's history, there are usually a few executives that have a defining impact. For YBS, one of the most influential was Mike Regnier, the erstwhile chief executive who left to become CEO of Santander UK at the beginning of 2022.
David Morris says: "What Mike did was come in and effectively provide quite a lot of strategic clarity in terms of what we can and can't be. We need to be a savings and mortgage business and we need to get simple, lean, and focused. That's really been the mantra over the last eight years. What we've seen since about 2018 is an acceleration of that vision."
Yorkshire Building Society focuses on mortgages, savings products and commercial lending, shying away from everyday transactional banking (which is highly regulated with a lot of competition) in favour of higher-interest products that encourage consumers to put some of their money aside. That means YBS has three core lines of business, which Morris describes as "low-touch but meaningful". The company is one of the largest lenders in the UK: "We're very big but we're focused," he explains.
The sheer scale that YBS has been able to achieve is testament to the laser-tight focus within the business. "We want to make sure we're doing things purposefully; we want to make sure we've got the capability to execute against that; and critically we only compete in parts of the market where we think we can win," Morris continues.
On mortgages, this means a higher proportion of its lending goes to first-time buyers or customers who are often overlooked by other providers. This allows them to occupy the underserved space in between other mainstream lenders, carving out a competitive advantage for themselves. "They're good people but for whatever reason other banks are not providing solutions that help them get on the housing ladder," Morris says. YBS still lends to more affluent customers who have higher equity in their homes, but they are clear that the business' focus is on being purposeful and finding innovative solutions.
People underestimate what YBS can do
This incisiveness and clarity of focus, coupled with the fact that YBS is "just a building society", often leads to people underestimating their scale or level of expertise. Morris says: "I think the YBS of today is far more capable than people realise. It's very interesting when you go out into the market and people say, 'oh you're a building society, do you know X' or 'do you know Y'? Of course we know it, we're really very good. It's just we're very, very focused."
This clarity of focus is clearly winning: in H1 2022, YBS outperformed some of the UK's traditional 'big six' banks in terms of both book growth and yield performance. It is also highly competitive now on digital. Morris believes that there are other financial institutions who could learn from this focused strategy.
Ramping up digital transformation
When you think about digital transformation, you tend to think about the process of replatforming and the multiple legacy systems that often hold firms back. That is one of the key tenets of digital transformation after all. But, as with any sizeable undertaking within a business, the most important thing to get right from the outset is strategy. It can be a challenge to get everybody within a business subscribed to a digital transformation – it requires a huge cultural shift – but it can also be difficult to get all your objectives aligned.
When Director of Business Transformation Ben Sampson joined the business, YBS had an ageing legacy platform powering its websites; it didn't have a consumer app; and the percentage of customers signing up through digital was somewhere between 15% and 20%.
It's not an atypical hangover for a building society to have; indeed, according to research from the Building Societies Association published in 2021, two-thirds of building societies identify digital transformation as the main challenge facing the sector in the next five years.
"We had a good physical business model, good branches," Sampson says. "But we were really lagging behind on both the technology front and the digital commerce performance front."
First, Yorkshire Building Society established a single vision and ambition organisation-wide that everybody was aligned to. Digital transformation has proven to be a considerable, long-term investment for the business – the single biggest programme of work that YBS has ever done, as Sampson puts it. "That's as significant as the replatforming for me," he says. "A business that gets unified behind that single goal, which can then lead to all the important elements of conditions for success such as the ability to have razor-sharp prioritisation discussions. They're not possible if you've got different viewpoints, because it just becomes an argument."
YBS built and launched its first native apps for iOS and Android, getting into the pockets of its customers for the first time. The demand has always been there: research shows that a majority of UK banking customers want their banks to offer mobile apps. It established a partnership with identity confirmation provider HooYu, allowing it to elevate its onboarding and ID verification process. Together, they developed a programme called "experience-driven acquisition", which involved building a more seamless account opening process. Alongside the partnership with HooYu, YBS also redesigned some customer journeys and replatformed to make this project work.
YBS has also invested heavily in modernising its mortgage origination system. A new platform was introduced in 2018 and through the programme this has been extended, adding the remaining products one by one. Significant time has also been spent optimising this tool, working with technology partner Iress to create innovative solutions and leverage its capabilities. Permanent squads were also set up, allowing technical expertise and strong relationships with the supplier to develop. The result is that the speed of change has increased by 300%.
Morris says this has had a huge impact on the business: "When I started at YBS I saw our mortgage business had lots of potential. I think it is easy to overlook the impact of our transformation here but, for me, this has been the spark that enabled the broader transformation. With our mortgage engine firing, we have been able to subsequently transform our savings proposition and invest further and faster in our digital transformation."
The results have been staggering, the company says: digital acquisition has gone from 20% of the mix to over 70% and the online book is over 2.5 times bigger than it was before the transformation began; over 20% of lending originated utilises the new capabilities the transformation delivered; and digital satisfaction has increased by over 40% in the last 12 months alone.
It also transitioned away from waterfall development, which just wasn't cutting it with the modern digital technologies, and created a 'digital services tribe' instead. It was the first time that YBS had attempted to work in that agile way at scale, so clearly the technical undertaking itself was vast. But it all stemmed from a single collective vision that helped to clearly define the building society's priorities, who it was and who it served as a business, and exactly how it would take advantage of the digital opportunity before it.
"As we have learned we have sped up certain bits, slowed down and reordered priorities," David Morris says. "But we have done this in a way that is completely consistent with our long-term vision, which remains unchanged. This has allowed us to continue to review and improve our performance in terms of delivery and value creation. Our modular approach has also helped enable this."
Partnership with Johnston Carmichael
At that time, YBS had never undertaken a digital transformation programme on this scale before. It needed some support to mobilise and to get that initial jumpstart, which is when it partnered with business consultancy Johnston Carmichael. Their expertise and knowhow supported YBS in accelerating and creating pace, but it also offered a couple of additional edges – like challenging YBS' own internal ways of thinking, and lending an experience and a pragmatism that firms like Johnston Carmichael benefit from.
They've got a team of very experienced, highly professional people that have been through a number of cycles of both the external environment and transformations," Ben Sampson says. "That experience is invaluable when you've got a company like YBS, which has good core capability but maybe hasn't done this before and is lacking in that real-world experience. Johnston Carmichael certainly brought that. They came in, they gave us a huge injection of pace, they gave us some really strong critical thinking, and they brought a clear view of design thinking."
The partnership with Johnston Carmichael is indicative of YBS' broader thinking around collaboration and partnership, as Sampson explains: "We want to be more selective about the partnerships we have. We can't throw good money after bad if we get that wrong. So we tend to go with trusted partners and longer-term relationships. We will often run competitive processes with people we've worked with before and we look for a cultural match – people that will work well in our business. It's vital that we have people who have done this before. We want to learn from others, we want to take their experience to help us be successful.
"The thing that's absolutely essential from any partnership for us is that they must help us to learn, and to be able to do that, they need to leave a legacy of us being able to do things ourselves. We don't want transactional relationships that give us a step change that then falls away. It's one thing to transform, but it's another thing to then optimise. And to be able to optimise, we need to be building our capability as we do it."
David Morris concurs: "We want people who can augment, people who can do things that we can't or people who can help us accelerate. We're not looking for people to come in and do the stuff that we can already do, because we already have some skillful, capable people within the business."
The inspiration to succeed
So who inspires them? "I believe in the power of people and in creating environments that allow people to thrive," Sampson says. He is drawn naturally to people who have overcome adversity: to Stephen Hawking, who became the pre-eminent scientist of his generation despite battling personal adversity; to Richard Branson, who built Virgin from the ground up and who today is quite pioneering about the way in which he nurtures his teams, giving them unlimited time off as an example.
Sampson also identifies with Steven Bartlett, the founder of marketing agency Social Chain and the youngest investor in the history of Dragon's Den (the UK version of Shark Tank). He also has a podcast charting the highs and lows of being a CEO. Sampson calls him an inspirational figure and likes the fact that Bartlett dropped out of university, like he did.
David Morris says that central to his style of leadership is a 'belief in better'. He is inspired by people – both from within YBS and outside the organisation – who are able to think differently, challenge the ordinary and strive for something extraordinary. "I genuinely find myself engaged by people who are able to break paradigms, think differently and lift themselves out of the status quo. People who are able to say 'here's a completely different way of doing things'."
That disruptive mindset has always been rare, but wherever they exist those people are usually invaluable assets. There is clearly something of a disruptor personality trait among Morris and Sampson themselves. When we first speak, it is just a few days before Christmas – yet there is no let-up for either of them. They brim with passion about the progress that YBS has made, the potential it's unleashing within the organisation, and crucially the benefits it will bring for customers.
Everything comes back to the customer
YBS has spent the better part of eight years reorienting its business towards customers: giving them the platforms and digital channels they expect, but also honing its propositions so that it can meet underserved demand in the grey space between traditional high-street lenders.
David Morris believes that, because business value has played such an integral role in YBS' transformation, the customer has become an inescapable end-goal. Every path that YBS takes now leads to the customer. That means the customer has become a really useful currency for explaining digital initiatives to executive stakeholders within the business, particularly those that are not digitally confident.
"To me, digital inherently means being customer-centric," Morris says. "So when we're trying to build customer journeys, there's no point building great technology if it doesn't work for the customer. We've recognised that the solutions we need to create have to be built with the end-user in mind. I think that's just a natural, inherent part of this type of transformation."
Sampson concurs: "We're building things that meet customer needs and wants, and that's research-based. That's quite powerful."
Customer-centric design permeates every pore at YBS, including recruitment. Everybody that has been brought into this digital transformation journey has been steered by customer demand – from UX and UI designers through to programme managers. Much like its namesake region, Yorkshire Building Society has a distinctive character, a flavour, a non-negotiable way of doing things. It only takes on new people that fit into this customer-led culture. "You can be the world's greatest project manager or the most sophisticated architect, but if you don't understand the YBS culture then it just doesn't work," Morris says.
That applies not just to the people that YBS recruits, but the partners it chooses to work with as well. The building society partnered early on with Johnston Carmichael to help them quickly realise pace, mobilise the digital transformation programme and become clearer on the designs of its digital products. This allowed it to remain focused from the outset on the customer.
"What Johnston Carmichael brought to the table was an acceleration of what we were trying to do, [along with] huge amounts of experience and pragmatism," Sampson explains. "They used that to not only help us think about what we wanted to do, but to be a critical friend and challenge us in our thinking, and help us avoid pitfalls that others might have experienced who went before us."
Looking ahead to the future, Morris continues: "Over the last 2-3 years, we've been able to prove just how much opportunity there is in the business and how digitising parts of our enterprise has created huge amounts of value. I think our vision for the next 12-18 months is about how we can go from good to great. We think our approach can be really quite distinct and unique by taking this best-of-breed approach, using digital and human to create something that's distinct in the market. And I think a big focus for us over the next period is going to be about how we create an operational model that supports this powerful acquisition capability we've built."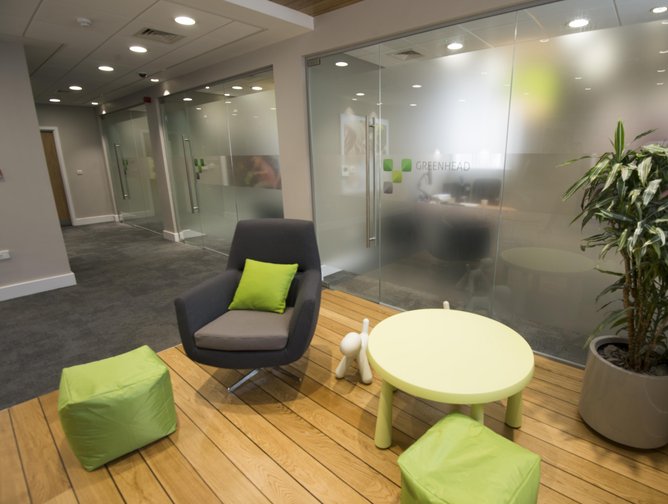 Yorkshire Building Society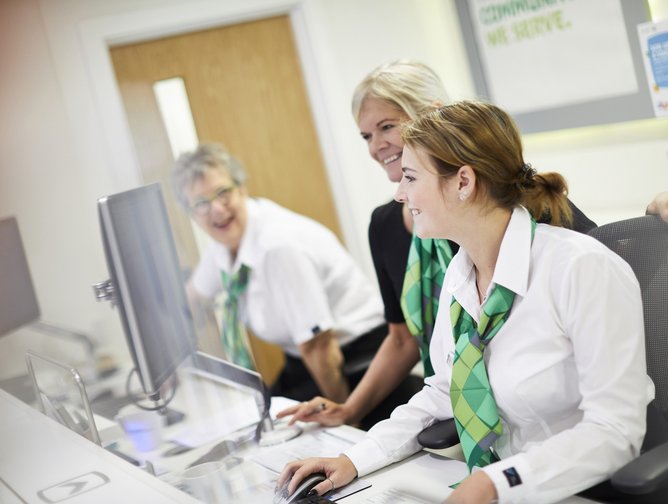 Yorkshire Building Society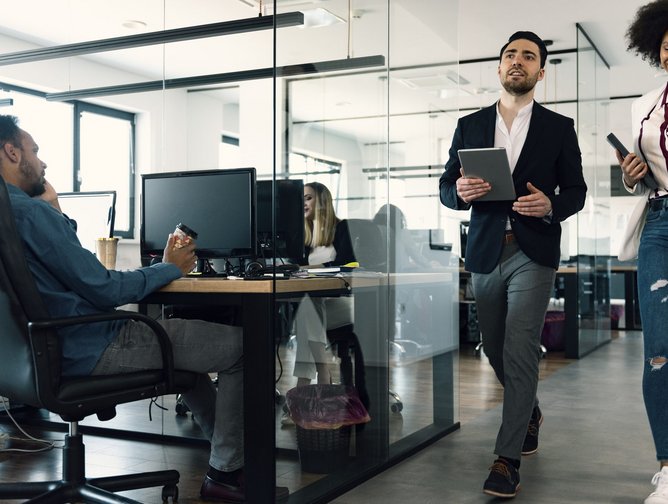 Yorkshire Building Society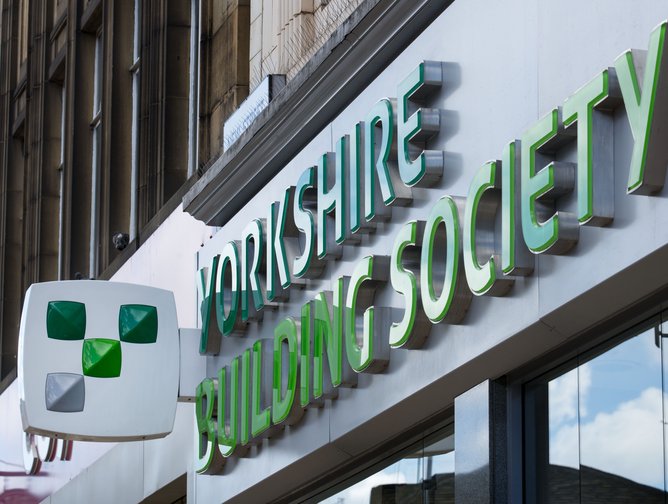 Yorkshire Building Society