EU rail freight plans shunted by energy prices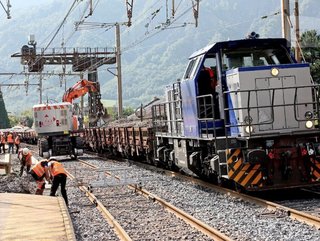 SNCF Réseau – the management company of rail infrastructure in France – quadrupled traction prices in early January, and many freight companies are now using diesel locomotives instead of electric ones, to reduce operational costs, resulting in a huge rise in carbon emissions.
SNCF quadruples its traction prices, forcing rail operators to switch to diesel engines, and firms to switch to roads
The viability of many rail freight operators in France is being threatened by increased electricity bills, reports, railfreight.com, and operators are calling for electricity contracts to be urgently renegotiated.
The management company of rail infrastructure in France, SNCF Réseau, quadrupled traction prices in early January, and many freight companies are now using diesel locomotives instead of electric ones, to reduce operational costs.
At the same time, an increasing number of trucks have taken to the roads, because they are a cheaper transport option compared to electrified rail.
This signals a worrying trend, as the European Union (EU) looks to increase the role of rail in logistics, and reduce road haulage, which is far less carbon friendly.
EU seeks to double rail freight volumes by 2030
EU sustainability proposals include a plan to double rail freight across the territory by 2030, with the US also committed to increasing the role of rail as part of its transport infrastructure.
On a per-tonne-delivered basis, it's estimated rail freight produces 75% less greenhouse gas emissions than shipping by truck, so it is easy to see why politicians and business chiefs are keen to embrace rail more fully as part of the intermodal logistics landscape (with 'intermodal' defined as being two or more modes of transport being used to convey goods).
Some countries are doing better than others on making rail a major part of their intermodal logistics infrastructure. The US leads the way.
Unlike the EU, the US is a single landmass and has a single language, and around 40% of all US freight by tonne-mile is moved by rail – compared to around 15% in Europe.
The situation in France casts a long shadow over EU attempts to close the gap on the US in terms of its rail-road freight balance.
Alexandre Gallo, president of AFRA – the French rail association – and CEO of DB Cargo France, said: "The reverse modal shift has been initiated, cancelling all efforts to develop rail freight. What an aberration in the context of ecological transition."
Rail freight electricity rates quadrupled in a year
AFRA confirmed that the charges rail operators have to pay to SNCF Réseau quadrupled on 1 January from 111 euros per megawatt-hour in 2022 to 473 euros in 2023.
"This rise in energy prices is unsustainable for all rail players", says Raphaël Doutrebente, president of AFRA freight commission and Europorte.
Since late 2020, France has turned its focus on doubling the modal share of rail freight by 2030 from 9 to 18 per cent.
To this end, the government drew a national recovery plan, which now seems to be moving backwards.
Efforts provided a positive output, as AFRA informs since, with the contribution of private operators, rail freight's share in France had increased from 9,6 to 10,7 per cent between 2020 and 2021.
However, those efforts now seem to have been in vain. Gallo stressed that the reverse modal shift in France is in full swing, with increasingly fewer electric trains running. Since France and many other EU states "have not made use of the electricity market intervention enabled by the EU or have not channelled its results to traction electricity users", as UIRR highlighted a few days ago, surviving the increased costs is only a short-term goal.
That is because the longer-term effects of neglecting rail freight operators and their financial struggles will mostly be apparent in the environmental goals. France is a good example of this looming danger. The country already faced issues with its rail freight sector but is now risking to give it a final blow by "abandoning" it, said AFRA.