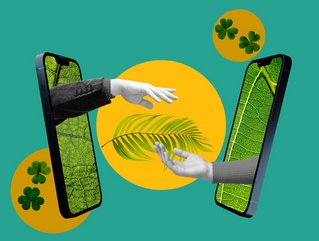 Head of Sustainability, Google EMEA, Adam Elman offers insight into the integral nature of AI in Google's fight against climate change
The relevance of Artificial Intelligence in today's business landscape is ever-evolving, present in myriad forms. And for the world of big tech, the primary form AI takes is in cutting energy consumption.
AI and its capabilities have been utilised by many of the biggest tech companies, including Google, who operate a carbon intelligence programme to cut energy needs in powering their immense amount of data centres. Concomitantly to this, Google uses AI for the social good, supplying countries with environmental insights, flood forecasting, wildfire detection, and, of course, Google Earth Engine to provide information about renewable energy possibilities.
So, what lessons can big tech – and companies at large – take from Google's innovative utilisation of AI? Google's Sustainability Lead for Europe, the Middle East, and Africa, Adam Elman, offers Energy Magazine his insights…
Cutting energy consumption in data centres
Google is totally dependent on their technological infrastructure, and in particular, data centres to help facilitate processing mass amounts of information - this includes 63,000 Google searches per second. Through AI, Google has reduced energy consumed for cooling by 30% through the creation of a more efficient framework.
"If you look compared to five years ago, we produce about five times as much computing power for the same amount of electricity used. But how do we do this? Well, through artificial intelligence and DeepMind, which is an AI/machine learning specialist organisation within Google. A number of years ago, we started using what we call neural networks to take thousands of data points and figure out optimisations that humans simply can't do," says Adam.
Google's new focus is on becoming net-zero in their operations and across their value chain by 2030, having already made it around two-thirds of the way there. In fact, the company uses 100% renewable energy, making sure to buy enough renewable electricity to match usage.
Environmental Insights
One of the solutions Google makes freely available to cities and regions around the world is the Environmental Insights programme, which is key to developing carbon plans, and subsequently, tracking any progress made. Google EIE runs by extracting estimates of transport activity data and then building footprint data, based on actual measurements of traffic and buildings.
This data is then multiplied by emission factors from the World Bank's Climate Action for Urban Sustainability (CURB) tool. Cities account for around 70% of carbon emissions, and struggle to find the data and tools needed to create tangible plans to tackle environmental problems; Google's Environmental Insights programme is the solution to this.
"Environmental Insights provides data – real-time – on transport emissions, and more on opportunities to deploy energy sources like solar. More recently, we've been piloting a solution for cities around tree canopies, where there are opportunities for cities to plant more trees. One example is the city of Dublin and its set target to increase cycling trips by 20%," explains Elman.
Google provided the city of Dublin with transport data to pinpoint what's happening in real-time. This has helped the city develop their plans for what infrastructure and policy changes they need to make to improve the volume of cycling, using this data to track progress to see if it's really having the impact that they desire.
Extreme weather
In terms of AI for social good, Google is firmly at the forefront. With communities around the world facing the immediate, damaging effects of climate change, key areas of focus that arise will be looking towards how people can work together to implement sustainable solutions.
To achieve this, Google uses AI-powered platforms alongside partnerships with frontline emergency workers and organisations.
One of these platforms is called FloodHub. Available globally, the AI-based flood forecasting programme offers a map display of forecasts that shows when and where floods may occur to help people prepare. The company sent 115mn flood alerts to 23 million people over Search and Maps in 2021. The new expansion of flood forecasts adds 18 countries across Africa, Latin America and Southeast Asia.
"Flood forecasting is made possible using AI and physics-based modelling, taking data from historic flood events, river levels, terrain, elevation data, and many other data points. We use this in partnership with government agencies to actually issue millions of alerts to users to tell them there's a flood coming, you need to take action. So when we think about climate mitigation, we also need to think about climate adaptation and climate risk – a key area where we can use this type of technology in the real world," explains Elman.
Google Earth Engine for industrial sustainability and energy transition
AI-powered Google Earth Engine has the capabilities to understand big data and analytics to identify, reduce, and report on emissions, with the platform having access to 50+ petabytes of analysis-ready data.
The programme remains relevant for solar project developers or those interested in designing Massive Solar Distributed Generation Projects, providing users with rich, solar-potential data about buildings throughout the world.
"Google Earth Engine is one of our solutions that takes multi-petabytes' worth of satellite data, geospatial data compliance, and planetary level data analytics. We've made this available for a number of years to scientists and researchers to help them really understand what's happening at a planetary scale in terms of changes to the planet.
"We have another solution called Global Forest Watch, which again is helping companies, governments and cities track monitored deforestation and take action. So, again, it's using AI and machine learning in a real-world environment," concludes Elman.
This extends into individual conglomerates and their immediate sustainability needs. Unilever is currently utilising Earth Engine's satellite data to work towards achieving a deforestation-free supply chain by 2023.