Azure Power signs deal with Siemens Gamesa for wind turbines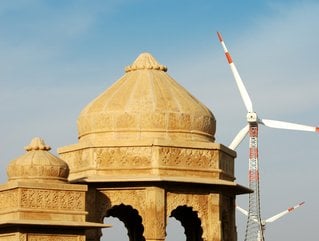 Siemens Gamesa to supply 96 units of SG3.6-145 onshore wind turbines to be supplied to Indian independent sustainable energy solutions provider Azure Power
Azure Power, a leading independent sustainable energy solutions provider and renewable power producer in India, has announced that it has signed a Master Supply Agreement (MSA) with Siemens Gamesa, a global leader in wind technology.
Renewable energy transition
In a statement, Azure said that Siemens Gamesa will supply 96 units of its SG 3.6-145 onshore wind turbines, which will cater to an overall capacity of ~346MW wind projects. The turbine supply is expected to commence during Q2 CY 2023, it added.
Harsh Shah, CEO, Azure Power said: "We are pleased to partner with Siemens Gamesa in our first wind project. Wind energy is going to be an imperative element for delivering firm, reliable and clean energy to achieve the energy transition vision of the country. This partnership will create long-term supply visibility while securing sustainable value for our stakeholders."
Renewable energy investment in India
Azure Power developed India's first utility scale solar project in 2009 and since then has grown to become a leading developer and operator of large, utility-scale renewable energy projects in the country.
The company recently completed a 90MW solar power project in Assam, the largest in the state. The contract with Siemens Gamesa will see the wind technology provider supply its latest India-focused technology.
Navin Dewaji, CEO, Siemens Gamesa-India said: "The contract provides new impetus to the wind industry at a key juncture in the country's energy transition. Teams from both companies have worked relentlessly over the last few months to secure maximum value for the project.
"With this new joint approach, alongside our technological innovation, we are confident of delivering the right renewable energy solutions to the market," he concluded.