HydrogenOne buys £10mn minority stake in Bramble Energy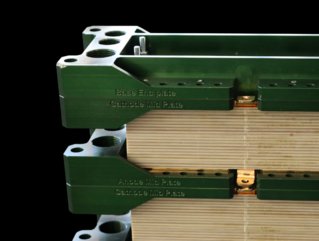 HydrogenOne's investment in Bramble Energy forms part of an approximate £35mn fundraising round and facilitates global roll out of hydrogen fuel cells
HydrogenOne Capital Growth (HydrogenOne) has bought a £10mn minority equity stake in Bramble Energy as part of their Series B funding round.
With this purchase, HydrogenOne receives a board seat at Bramble.
Bramble has pioneered a printed circuit board ('PCB') fuel cell solution - PCBFCÔ, which manufactures low cost, scalable and recyclable fuel cell modules, and can be made at any PCB factory world-wide.
Hydrogen fuel cells are used to convert clean hydrogen into electricity and water, resulting in a power source that is free from greenhouse gas emissions. Fuel cells have widespread applications such as heavy duty and long distance transport and portable power and are a critical component in the clean hydrogen sector.
Bramble intends to deploy its fuel cell technology by ramping up the global distribution of its portable power units in partnership with BOC (a Linde Group company), and further by developing fuel cell stacks for light commercial vehicles.
In an interview with Energy Digital last year, Bramble claims its printed circuit board technology offers a more flexible, cheaper and scalable option to traditional fuel cells, and is up to 75% cheaper than incumbent fuel cell stacks (click here). A recent report from Goldman Sachs found clean hydrogen use could lead to a 15% cut in global greenhouse gas emissions (click here).
Investors target growth in hydrogen fuel cells
HydrogenOne's investment in Bramble forms part of an approximate £35mn fundraising round, including existing Bramble investors IP Group, BGF, Parkwalk and UCL Technology Fund.
Simon Hogan, Chairman of HydrogenOne, said Bramble is a pioneer in Hydrogen fuel cells. "This is the latest transaction in a series of investments HydrogenOne Capital has made within the sector, showing that there is real momentum in our investment strategy and we are creating a strong platform for further investments," he said.
Dr Tom Mason, Bramble's CEO & CTO, said it was entering an exciting phase of its business. "As we look to exponentially scale our offerings and impact, it is of paramount importance that we execute on key relationships," he said, adding that HydrogenOne Capital's specific focus and public market experience makes them an ideal partner at this stage.
He believes it is "abundantly clear" that hydrogen needs to be used extensively to meet net zero targets. "The larger the mass you're moving, and longer the distance, the more likely you're going to need hydrogen over battery electric," he said.
"I have a big problem with people who talk about sustainability and say that batteries are better than hydrogen – sustainability is much more than CO2, it's about natural resource consumption and biodiversity destruction."
• Join global business leaders and sustainability experts next week, who are taking meaningful action at Sustainability LIVE, at Tobacco Dock, London, 23-24 February 2022. Register your attendance today. Click here to discover more.