Making light work: smart lighting is becoming efficient edition to smart buildings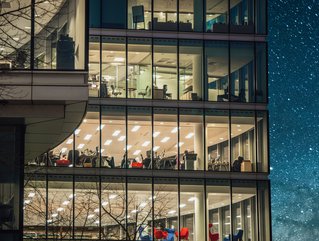 Efficient, environmentally-friendly and exceedingly cost-effective, smart lighting has emerged as a crucial co...
Efficient, environmentally-friendly and exceedingly cost-effective, smart lighting has emerged as a crucial component for smart buildings and cities alike. Andy Heaton, CEO of enModus, helps us see the light.
Lighting accounts for an estimated 15% of global energy consumption, and more than 5% of greenhouse emissions. According the Carbon Trust, up to 40% of a building's electricity use comes from lights. However, in the case of both new-build skyscrapers or century-old office blocks, a light-based revolution is afoot.
Depending on which forecast you read, by 2023 the global smart lighting market will be worth anywhere from $20bn to $105bn. Whatever the eventual figure, industry experts are in agreement; dramatic growth is imminent. From carbon reduction to compliance with energy legislation, the nascent mainstream adoption of internet of things (IoT) and big data technologies, or the gradual elimination of incandescent lighting in favour of light-emitting diode (LED) bulbs – the reasons for a forthcoming boom are myriad. And yet, at the very core, lies a simple, incontrovertible fact: smart lighting makes even smarter business sense.
"Adding smart lighting to a building is a very, very tangible payback on an investment – it pays for itself, and is measurable," says Andy Heaton, CEO of enModus, a Welsh technology startup that vows to 'make any building smart'. He adds: "If you move from a building that has all kinds of incandescent or fluorescent lighting and put LED lighting with our control technology in there, you can get savings of up to 95%." It's an impressive stat, and one made all the more spectacular when you consider a recent enModus case study – in partnership with Virgin Media – that delivered a staggering 99% in energy cost savings. Heaton notes that while the majority of modern organisations "want to be seen to be green, for all the right reasons," the swift return on investment is evidently a big factor.
Trojan horse
Smart lighting techniques vary wildly. In the consumer space, key players like Philips, Hive and Osram focus on smartphone control, scheduling and ambience creation, whereas the commercial sector is naturally more concerned with compliance and optimum ROI – hence the proliferation of occupancy sensors, automatic dimming and daylight sensors – all of which conspire to drastically decrease carbon usage and cash spent. Heaton says: "You can see and efficiently measure the power consumption before, and see and efficiently measure the power consumption after."
EnModus's own smart lighting system is characterised by Heaton as "a pivot point … a hugely important Trojan horse for the smart building", and utilises a building's existing cabling infrastructure to retrofit smart lighting control with a cloud-based backend. The powerline technology, Wattwave, is protected by a host of global patents. So confident is the company of its efficiency, it offers prospective clients a timeline for when the system will begin paying for itself, as well as a full guarantee.
"This is unique in the industry," claims Heaton. "The fact that we can supply our connectivity embedded in the lights, the customer only has to pay for it if it actually matches the criteria that we said it was going to match in the first place. We are that confident in our technology."
The age of the LED
As is globally pervasive, enModus strips out the once-ubiquitous incandescent or fluorescent lighting to help usher in the age of the LED. As above, it is something of a no-brainer. Though a seven-watt LED may cost up to $4 upfront – versus a $1 incandescent 60-watt bulb – the LED last some 20 years, with a 25,000-hour life span. Within that same timeframe, a consumer will purchase an average of 21 incandescent separate bulbs. As for electricity cost, LED triumphs again – with 25,000 hours costing $30, compared with $169 for incandescent.
Such is the momentum behind LED, the three physicists responsible for creating the blue LED were awarded the 2014 Nobel Prize in Physics. "Incandescent light bulbs lit the 20th century; the 21st century will be lit by LED lamps," read a statement on the Nobel Prize website. The following year, Clean Energy Ministerial (CEM) launched its Global Lighting Challenge, which strives to deploy $10bn LED bulbs (or high-efficiency equivalents) as fast as possible. Once more, the logic is palpable – doing so would, in time, slash lighting's contribution to global energy by more than half; from 15% to eight.
Adoption
Despite the worldwide acclaim for smart lighting systems, and the LED bulbs therein, this much-touted revolution of light is yet to fully spring into life. Adoption is steady, but slow. Heaton believes this is due to "the conservative nature of the building industry" as, despite years of lip service, "there aren't that many risk takers". He remains optimistic and believes 2018 to represent a defining year of change. This is, in part, due to a comparison he draws with smart home technology (which itself has observed a whole host of stuttering false dawns).
"We don't play in the smart home space, but it actually took something like Amazon's Alexa to have that trigger point where it starts to become the norm to have smart home services. I think the same kind of thing is happening in smart buildings, and I think the trigger point there is the realisation that LEDs themselves are very, very mature, and it is very safe to convert your old lighting to LEDs."
Heaton foresees a bright future. He adds: "I think there's definitely a parallel – what Alexa can do for smart homes, the LED can do for smart buildings."