Top 10 energy issues from the Ukraine crisis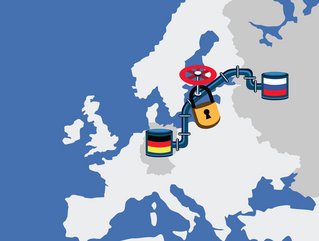 As the war intensifies in Ukraine, the energy industry is coming to terms with a raft of inter-related political, economic and development issues
'There are decades when nothing happens; and there are weeks where decades happen,' said Lenin, which seems an apt quote as the world tries to digest Russia's tumultuous invasion of Ukraine.
The international community was swift to introduce financial sanctions and energy majors such as bp and Shell showed alacrity in cutting ties with Russian interests. But it remains to be seen if there will be further sanctions – particularly in the energy sector – in the weeks and months ahead.
There are many unfolding political, economic and humanitarian dimensions to the crisis, but here are the 'top 10' issues which are impacting the energy industry.
10: Countries and industry unitedOne small positive from the crisis has been the united response from world leaders, strengthening links in the EU and international community, and all nationalities, while energy majors have also been swift to cut ties with Russia. Change.org announced more than 4 million people spanning 196 countries have turned to massive petitioning as a way to raise their voices and demand specific actions in the wake of one of the largest military escalations in recent history. "We've seen political leaders around the world stepping up to de-escalate and hopefully put an end to this conflict, but many individual citizens also want to do their part, both in speaking up to demand an end to the current conflict but also to voice other concerns," said Anya Ayvazyan, Country Director, Change.org Russia.
09: Ukraine crisis impact on global GDPIEA Executive Director Fatih Birol said the situation in energy markets is very serious and demands our full attention. "Global energy security is under threat, putting the world economy at risk during a fragile stage of the recovery," he said. Schroders now expects global growth of 3.7% this year and CPI inflation coming in at 4.7% (previously 4% and 3.8% respectively). Despite the changes to the global forecast, the risks are still skewed toward stagflation either through a wage-price spiral or an even greater escalation of the crisis. It believes the chances of rising prices triggering another recession, as in earlier cycles, have clearly risen especially as central banks have limited room for manoeuvre given the high level of inflation and lack of economic slack.
08: Ukraine grid connectivity and stabilityEnergy ministers from EU countries agreed to link a European power system to Ukraine's grid, a move that would increase its independence from Russia following Moscow's invasion of the country. Linking Ukraine to the EU's electricity grid would boost the country's defence, strengthen defence capacities and protect Ukrainians from blackouts.
07: The role of OPEC and IEAOPEC has resisted pumping more oil to help tame surging crude prices, which briefly topped $116 a barrel, and Saudi Arabia has called for stability in the oil markets. During an Extraordinary Governing Board, IEA member countries agreed to release 60mn barrels of oil from their emergency reserves to send a unified and strong message to global oil markets that there will be no shortfall in supplies as a result of the war. IEA members hold emergency stockpiles of 1.5bn barrels. Previous collective actions were taken in 2011, 2005 and 1991.
06: Rising cybersecurity concernsMike Wills, director of strategy and policy at cyber and data security firm CSS Assure, said businesses should make themselves as hard to hack as possible at all times – but now more so than ever. "From a strategic perspective, there is a significant risk that Russia may seek to create instability within western countries and, specifically, the UK as a means to distract focus and attention away from the situation in Ukraine and onto closer, acute problems at home," he said.
05: Accelerating investment in renewablesThe invasion by Russia, Europe's top gas supplier, has sharpened concerns of disruption to energy supplies and increased scrutiny of EU countries' reliance on imported fossil fuels; in another key move, the Nord Stream 2 gas pipeline project has been suspended. The onset of the crisis, barely three months after COP26, may well precipitate greater investment focus on the renewables sector.
04: Higher costs as crisis hits supply chainsInflation risks have now risen with the Ukraine crisis, while risks to outlook for demand, and broader economic growth, have shifted to the downside due to the conflict, according to IHS Markit. The war has further lifted commodity prices, notably energy (but also likely food in Europe), while the supply disruption could worsen, especially if safety stock building ramps up again.
03: Energy majors sever links with RussiaExxonMobil and TotalEnergies will not invest in new developments in Russia; Shell announced its intention to exit its joint ventures with Gazprom and related entities; and bp confirmed it will off load its 19.75% stake in Rosneft in a move which will cost the company $25bn. It's hard to fully comprehend the corporations' moves, needless to say what took years and decades to nurture has been removed in seven days.
02: Nuclear security and policyUkraine operates four nuclear power plants with 15 reactors located in Volhynia and South Ukraine. Zaporizhzhia nuclear power plant, now under Russian control, is the largest in Europe and ninth largest globally. UK Prime Minister Boris Johnson said the "reckless" attack could "directly threaten the safety of all of Europe". At a special emergency meeting, the IAEA's general director, Rafael Rossi, called on Russian troops not to interfere with nuclear facility workers doing their jobs. The stakes are high, after President Putin put its nuclear deterrent forces 'on high alert'.
01: Will energy sanctions be imposed on Russia?It's the multi-billion dollar question. Unlike the rapid and extensive imposition of financial sanctions, energy has so far remained off limits. But cutting off Russia's energy supplies would have huge ramifications. Russia is the world's third largest oil producer and largest exporter. Its exports of about 5mn barrels a day of crude oil represent roughly 12% of global trade – and its approximate 2.85mn barrels a day of petroleum products represent around 15% of global refined product trade. The US says energy sanctions are "very much on the table" but it needs to weigh up its impact, given Russia is the third biggest exporter of energy to the US and Russia supplies around 40% of EU gas consumption.