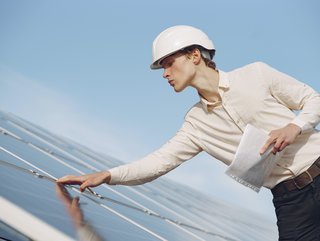 Top 10 largest solar power parks
From China to Dubai, we explore the top 10 largest solar farms in the world, assessing both capacity and investment
As clean energy requirements grow, the deployment of solar power has skyrocketed - solar PV is now the most popular form of new electricity generation.
As time runs short to keep global temperature change under 1.5°C, the mass implementation of a clean energy source like solar could not come at a more significant time.
Energy Digital takes a look at the top 10 biggest solar farms in the world.
10: Kurnool Ultra Mega Solar Park - India
Located in the Kurnool district, Andhra Pradesh, south India, with an operational capacity of 1GW (1000 MW) of energy each year, a significant portion of India's gross installed electricity capacity of over 350GW, the solar park saves an estimated 1,892,160 tonnes of CO2 emissions.
The solar park is a combination of a state and central government partnership.
9: Jichuan Solar Park - China
Nearly all of Jinchuan in China's Gansu province is covered in solar power plants. A second cluster of projects is to the south, and the solar park occupies almost 90km2 of semi-desert to the west of the city.
The solar park now has 15 plants, all of which have a combined capacity of just over 1GW. The largest plant in Jinchuan has more than 200MW of capacity.
The largest Jinchuan plant has a capacity of more than 200MW.
8: Datong Solar Power Top Runner Base - China
Located in Shanxi, China, Datong is a 3 GW solar PV power project. Commissioned in 2016, the project cost $138mn and was developed by China Power International Development and China Three Gorges. The project is currently owned by China Power International Development with a stake of 100%.
The plant will be able to produce 3.2bn kilowatt-hours of solar energy in 25 years and reduce CO2 emissions by 2.74mn tonnes.
7: Noor Abu Dhabi Solar Power Project - UAE
The world's largest single-site power plant, Noor Abu Dhabi provides power to roughly 90,000 homes with 1.17GW.
It has 3.2mn solar panels and is 8sqkm in size. The plant generates approximately 1.2GW of electricity, reducing the reliance on natural gas for electricity generation and reducing the country's carbon footprint by 1mn metric tonnes per year – enough to eliminate 200,000 vehicles from the road.
Abu Dhabi National Energy Company owns 60% of the project with Marubeni Corporation and JinkoPower each holding 20%.
6: The Tengger Desert Solar Park - China
The Tengger Desert Solar Park currently powers around 600,000 homes with its 43km2 of solar panels providing a 1.51GW output.
The capacity of the project's first phase will be 1mn kilowatts. When the base is fully operational, its yearly power result will be 5.78bn kilowatts, the equivalent to saving 1.92mn tonnes of standard coal each year. This is significant for a country that relies heavily on coal for energy.
5: Benban Solar Park - Egypt
Costing $4bn, Benban Solar Park is Africa's largest solar farm, with a colossal solar potential of 6.3kWh/m2 per day. This amounts to 41 solar power plants in total.
The 1.8GW project is managed by the New and Renewable Energy Authority (NREA), which is owned by the state. It includes a number of small solar power plants that are being built by different companies.
The project is a part of the Egyptian government's Sustainable Energy Strategy 2030.
4: Mohammed Bin Rashid Al Maktoum Solar Park - UAE
The desert nation of the UAE is home to a 76km solar park, the largest in the world, with a current capacity of 1.63 GW. This is planning to grow to 5GW by 2030.
The solar park provides power to 270,000 homes, offsetting a total of 1.4 million tonnes of carbon. Developed and managed by the Dubai Electricity & Water Authority, the solar park is one of Dubai's key initiatives in the Dubai Clean Energy Strategy 2050 – to produce 75% of the city's energy requirements from clean sources by 2050.
3: Pavagada Solar Park - India
Spread over 13,000 acres, Pavagada Solar Park provides 2.05GW to Indian citizens. Costing $2bn, the solar park was developed by Karnataka Solar Power Development Corporation (KSPDCL), a joint venture between Karnataka Renewable Energy Development (KREDL) and Solar Energy Corporation of India Limited (SECI) that was formed in March 2015.
Karnataka, the state in which this solar park is based, has the highest solar installed capacity among the Indian states followed by Rajasthan and Tamil Nadu.
2: Bhadla Solar Park - India
Soaking up the sun in India's Thar Desert is Bhadla Solar Park, consisting of 14,000 acres of co-located solar power plants, with a consistent generation of 2.25GW (Bhadla now totals about 2.7GW of capacity since recent additions).
The park benefits from near-perfect conditions, with the Rajasthan region receiving 5.72kWh/m2 of solar irradiation each day on average. Additionally, the solar farm benefits greatly from 300 sunny days per year.
Bhadla, like some of the other large solar farms on this list, was ordered by a number of businesses to auction off specific amounts of solar capacity. For instance, the Solar Energy Corporation of India held an auction for 25 MW capacity, and 27 businesses all made bids.
1: Golmud Solar Park - China
With an installed capacity of 2.8GW, the Golmud Solar Park in China's Qinghai Province, houses 80 solar power plants in total – this is enough to power over one million houses.
Costing a total of $587.22mn, the project was developed by China Longyuan Power Group and is currently owned by SDIC Huajing Power Holdings, with a stake of 100%.
Construction of the Golmud Solar Park began in 2011 and was completed in 2019. The solar park uses photovoltaic (PV) technology, with over 7.2 million solar panels installed to generate electricity.
The park is connected to the State Grid Corporation of China's power transmission network, which allows the electricity generated to be distributed across the country.