Formula 1 meets biofuel as DHL enables sustainable logistics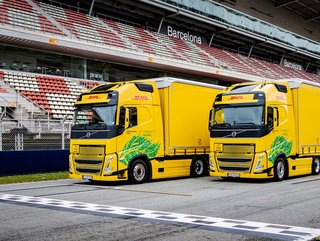 DHL's bio-fuelled trucks for the Formula 1 World Championship
Introducing bio-fuelled trucks to the Formula 1 World Championship is a major step in decarbonising motorsport and a triumph for logistics firms DHL
There is a major emphasis on electrification at the moment, but this doesn't necessarily make it a solution for all industries. While decarbonisation of passenger transport will be attributed largely to the number of electric vehicles (EVs) on the roads, commercial sectors and international transportation will require alternative solutions to meet decarbonisation demands.
This also applies to motorsports as the world continues to turn and fans continue to support the Formula 1 World Championship. This is where the logistics corporation DHL comes into play with news of bio-fuelled trucks.

DHL has introduced its first fleet of biofuel trucks, consisting of 18 new vehicles that run on HVO100 drop-in fuel, also known as hydrotreated vegetable oil. These trucks, which will cover approximately 10,600 kilometres during this season's European races, offer a reduction in carbon emissions without compromising on load capacity or travel distance compared to their diesel counterparts. Moreover, they contribute to a safer and more sustainable sourcing process.

Sustainable Formula 1 logistics enabled with biofuel
Since Formula 1 announced its sustainability strategy in 2019, creating a more eco-friendly logistics network has been a major focus of the partnership between F1 and DHL. The introduction of these bio-fuelled trucks represents another significant step towards achieving Net Zero emissions by 2030. The announcement follows a series of initiatives aimed at reducing the carbon footprint of the sport.
"Our partnership with Formula 1 also showcases our shared dedication to sustainability and reducing our carbon footprint," says Arjan Sissing, Head of Global Brand Marketing at Deutsche Post DHL Group.
"We consistently strive to make logistics more sustainable, and we are excited to introduce the inaugural fleet of trucks, running on sustainable fuel this year. As an industry leader in green logistics, the 18 trucks further contribute to a lower emission DHL fleet, where we show to our fans and customers that it is possible to bring the excitement of Formula 1 races around the world in a sustainable way."
These include transitioning to a greater reliance on remote broadcast operations, exploring multimodal transportation options such as overland and ocean freight, and redesigning freight containers to fit more efficiently onto Boeing 777 aircraft. By using the 777s instead of the traditional 747s, carbon emissions have been reduced by 18%. DHL trucks are also equipped with GPS technology to monitor fuel consumption and optimise routes for more efficient deliveries during Formula 1 events, often referred to as 'the race between the races'.
This innovation aligns with Formula 1's ongoing efforts to introduce an advanced sustainable fuel by 2026, alongside the next-generation hybrid engine. The development of such a fuel, coupled with its drop-in capabilities, could have a significantly positive impact on the broader automotive and transportation industry.
Ellen Jones, Head of ESG at Formula 1 commented: "We are a sport which operates on a global scale and DHL plays a critical role in delivering the races and helping us address the logistical impact we have as a World Championship.
"Together we are continually looking for more sustainable solutions, and through innovations such as the bio-fuelled trucks we're able to take the next step forward in reducing our carbon emissions and achieving our sustainability goal of being Net Zero by 2030. It is wonderful to see partners like DHL share the same drive and commitment to creating a more sustainable Formula 1.