NEOM's green hydrogen energy business sees financial close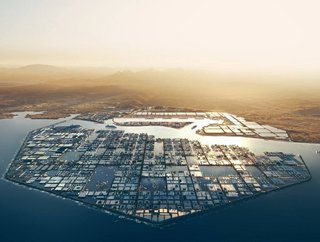 Neom's Oxagon city project
As part of Oxagon project—an urban city reimagine—NEOM Green Hydrogen Company (NGHC) successfully closed investments to drive renewable energy innovation
NEOM Green Hydrogen Company (NGHC) successfully reached financial close on the world's largest green hydrogen production facility.

After signing financial agreements with 23 local, regional, and international banks and investment firms, NGHC secured a total investment value of US$8.4bn. The facility, currently under construction in Oxagon, Saudi Arabia's NEOM region, is set to revolutionise the production of green hydrogen.

Oxagon is the company's idea of an industrial city, reimagined. The plans to develop in conjunction with the McLaren Racing team was announced in June 2022, which will see more expertise from McLaren shared with NEOM to build the new city.

NGHC finalised the engineering, procurement, and construction (EPC) agreement with Air Products, which will serve as the designated contractor and system integrator for the entire facility. This partnership ensures the smooth and efficient execution of the project.
"This substantial financial backing from the investment community shows the unmatched potential of NGHC's green hydrogen project. With the financial close announced today, we are taking a massive leap towards opening the plant, in line with NEOM's vision to accelerate renewable solutions," says Nadhmi Al-Nasr, Chairman, NEOM Green Hydrogen Company, and CEO of NEOM.
"At scale, this project is the first-of-its-kind internationally, leading the world in the hydrogen revolution. Harnessing the energy of NEOM's abundant natural resources, NGHC's project will pave the way for the large-scale adoption of green hydrogen, while driving Saudi Vision 2030's sustainable development goals."
Building the city of the future with green hydrogen
NGHC received certification from S&P Global as adhering to green loan principles for the non-recourse financing structure of the project. This distinction positions the project as one of the largest financings to date under the green loan framework. Air Products has already awarded significant contracts to various technology and construction partners, further solidifying the progress of the initiative.
The company has also secured an exclusive 30-year off-take agreement with Air Products for all the green ammonia produced at the facility. This partnership will unlock the economic potential of renewable energy across the entire value chain, providing a sustainable solution for the transportation and industrial sectors worldwide.
A collaborative effort between ACWA Power, Air Products, and NEOM, NGHC's mega-plant will integrate up to 4GW of solar and wind energy. By the end of 2026, it aims to produce up to 600 tonnes per day of carbon-free hydrogen in the form of green ammonia. This production capacity will meet the growing demand for cost-effective and environmentally friendly solutions in the transportation and industrial sectors globally.
The CEO of the NGHC, David Edmondson commented: "I'm excited to announce that NGHC, together with our three partners ACWA Power, Air Products and NEOM, has achieved another significant milestone in our project by achieving financial close on the world's largest green hydrogen plant with 23 banks and investment firms.
"This is a historic moment as we drive large-scale adoption of green hydrogen as the clean solution to the world's growing energy demands. This has enabled us to also conclude the EPC agreements with Air Products for a value of US$6.7bn. Today, we are already well underway building the world's largest facility to produce green hydrogen at scale with production scheduled to begin by the end of 2026."