GE Vernova projects and secures sustainable energy globally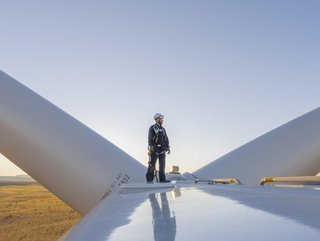 General Electric's conglomerate creates a platform sustainable impact as it delivers engineered wind turbine technologies and other energy solutions
General Electric (GE) Vernova is driving a learn global transformation to sustainable energy according to CEO its Scott Strazik—a major step in net zero
The conglomerate with its hands on the pulse of many industries, General Electric (GE) is particularly invested in building new energy processes globally to enable access to reliable, affordable, renewable energy resources.
The aim of GE Vernova is not simply to decarbonise, but to create equitable access to energy and renewable solutions to meet environmental, social, and governance (ESG) requirements.
This branch of the well-established conglomerate was formed just last year to provide ample support to the energy, wind, and electrification segments—all key areas of change for all countries since resilience became a key focal point following major disruptions. Backed by the company's 130 years of experience of challenge across the globe, Vernova marks a new era of business that will facilitate some of the projects with lasting impacts in a new energy world.
The company has also recently appointed some new leaders to adapt its approach and ensure lean strategy, supply chain management, health and safety, and many other areas are actioned to provide the best possible outcomes.
Where does GE Vernova impact renewable energy efforts?
Some of the business' most recent work has been carried out in Asia and the Nordics. In Vietnam, GE Vernova is driving the transition from coal power to gas in an effort to reduce emissions in a less developed economy. Meanwhile, in Australia hydrogen is the main topic of transformation as the country sees great potential within trucking and power generation.
Decarbonisation is the primary goal globally, but some countries require support to get the ball rolling and reduce emissions using alternative methods outside of electrification. The 'Powering Tomorrow' docuseries emphasises that it's not just about reaching that end goal of net-zero emissions, but how corporate actions can support national agendas step-by-step.
"I'm excited to continue to work with Dan on driving lean transformation across GE Vernova and thrilled to welcome Pablo to the GE Vernova team", said Scott Strazik, CEO of GE Vernova. "Their proven leadership and expertise will help us lead GE Vernova forward as we continue to both electrify and decarbonize the world."

In July 2023, Dan Garceau joined the team as its Operations and Lean Leader and Pablo Koziner became the Strategy Leader for the new business—and is expected to begin the role in November 2023.

Delving straight into the operations role, Garceau will oversee many of the supply chain programmes globally, as well as safety and security measures and quality assurance. His previous 25 years of experience will bring operational excellence into the team at GE, having worked with Autoliv—a staple automotive safety supplier in the US. His lean process knowledge will help the company seek out new efficiencies while adopting more principles leveraged in the automotive world.

Expected to join the company in late-2023, Koziner will work on the strategic side, enabling further partnerships with the organisation to operationalise future business. He brings with him a wealth of knowledge from another lean engineering firm, Caterpillar Inc., where he was the President of Solar Turbines, Vice President of Electric Power, and served in other roles in North and South America.

A number of different areas of work are firmly on GE Vernova's agenda, including decarbonisation, as the overarching goal, and global electrification.

The company supports decarbonisation efforts from an infrastructure perspective as one of its major projects in Vietnam involves working with local partners to develop solutions that harness the energy of liquefied natural gas (LNG)—a worthy transition material that produces less carbon dioxide than the dreaded coal.

GE has secured the first H-Class gas turbine order in the country, proving ample commitment to decarbonisation and a major milestone for Vietnam's transition.

When it comes to global electrification, the Vernova arm will support the delivery of reliable, zero-emission, affordable energy to the country to address the lack of access for almost 775 million people, and build resilience to weather events, conflicts, and international disruption.

******
For more energy insights check out the latest edition of Energy Digital Magazine and be sure to follow us on LinkedIn & Twitter.
You may also be interested in Sustainability Magazine and EV Magazine.
Please also check out our upcoming event - Sustainability LIVE in London on September 6-7 2023.
BizClik is a global provider of B2B digital media platforms that cover Executive Communities for CEOs, CFOs, CMOs, Sustainability Leaders, Procurement & Supply Chain Leaders, Technology & AI Leaders, Cyber Leaders, FinTech & InsurTech Leaders as well as covering industries such as Manufacturing, Mining, Energy, EV, Construction, Healthcare + Food & Drink.
BizClik – based in London, Dubai, and New York – offers services such as Content Creation, Advertising & Sponsorship Solutions, Webinars & Events.