Sustainability LIVE links to energy and electrification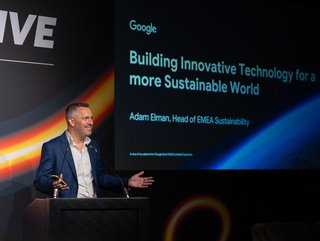 Sustainability LIVE London 2023 keynote session with Adam Elman, Head of EMEA Sustainability at Google
Sustainability LIVE London 2023 day two brought more unique perspectives on ESG, including EV charging, ethical finance, DEI, and the circular economy
On the second day of Sustainability LIVE 2023, the topics of conversation shifted towards technology and the influence that businesses and role models have in supporting diverse teams to become successful in some of the in-demand industries.
Further to this, many of our speakers talked about circularity as a key corporate initiative for businesses, ethical investment and how they can implement them in their strategies. As speakers and attendees settled into the event format, the stages were full of questions that touched on a broad range industry-specific areas.
One of the key moments of the day—and an early start for many—was an exclusive panel on Women in Sustainability, leaving the Stage One host Scott Birch with minimal work to keep the conversation going. The all-female panel spoke of some key points both in terms of women representing the sustainability portion of business but also female leadership as a whole. All of the panellists were keen to share a new perspective on work-life balance, stressing that each person and family is different.
On the panel was Michelle Davies, Global Head of Sustainability at EY, who spoke with us backstage.
"The Women in Sustainability panel was really to show them that there are wider opportunities in sustainability. I've been in sustainability for over 20 years as a lawyer and it's been a fantastic career, it's been dynamic, innovative, and full of fantastic people who all want to make a difference," says Davies.
"Sustainability LIVE is a great event because it has such a diversity of topics, hitting some of the most important areas."
Casting a bigger spotlight on the circular economy
Looking into some of the key themes in day two, circularity was certainly a strong one discussed across a few different panels and keynote sessions. Sustainability LIVE welcomes a diverse group of people from the packaging industry and food wholesale to construction and engineering, and of course a major influencer in this topic, Gartner.
From speaking with the panel, it became clear that their views are aligned on how to bring circularity into a number of industries with collaboration and partnership being a key driving of this among industries where waste is a major hurdle. In terms of packaging, we learned that pricing is a useful tool to encourage the reuse of products, having recognised that higher value goods are treated with more care in comparison to disposable products.
What does a sustainable future look like with generative AI?
It's almost impossible to discuss any form of business events or actions without considering the impacts of generative artificial intelligence (AI) on the way that organisations conduct their corporate strategies.
While this is a very new area of exploration for a number of businesses, Sustainability LIVE was able to host a dedicated panel on generative AI with support from industry experts Sandeep Chandna, Chief Sustainability Officer at Tech Mahindra, Jillian Moore, Sustainability and Global Advisory Lead at Avanade, and Michelle Davies, EY.
Making finance sustainable for corporate growth
Echoed across the two-day event was finance, which touches upon a few areas. Firstly, there's the idea of utilising financial incentives to get businesses moving, then there's the conversation of ethical investment and sustainable finance driving social prosperity throughout business activities.
Joining in this was Cornelia Andersson, the London Stock Exchange Group's Head of Sustainable Finance, Data & Analytics, as well as Sören Muller, COO of Water150, and Faye Bennett, CSO of Rio ESG.
With various components to a sustainable economy, businesses and financial institutions have their respective roles to play in delivering social empowerment projects, decarbonisation initiatives, and technology innovations—such as the imminent shift to electric vehicles (EVs) discussed by James McKerney, Head of Policy & Public Affairs at Pod Point—finance is the enabler of new activities that meet climate needs.
Educating generations on sustainability and business
With many facets, it appears the speakers all refer to a single notion—sustainability is embedded in everything. Often seen as a buzzword, organisations are now more aware than ever of its importance, which will allow them to integrate sustainability conversations into all commercial endeavours.
The key to a unified approach globally is to start at school, encouraging more learning around the planet and commercial impacts to help new generations understand the important role that companies play in climate change.
To catch the full highlights and on-demand sessions, check out Sustainability Magazine where we'll be featuring all post-event recordings and behind the scenes interviews.
******
For more energy insights check out the latest edition of Energy Digital Magazine and be sure to follow us on LinkedIn & Twitter.
You may also be interested in Sustainability Magazine and EV Magazine.
Please also check out our upcoming event - Sustainability LIVE in London on September 6-7 2023.
BizClik is a global provider of B2B digital media platforms that cover Executive Communities for CEOs, CFOs, CMOs, Sustainability Leaders, Procurement & Supply Chain Leaders, Technology & AI Leaders, Cyber Leaders, FinTech & InsurTech Leaders as well as covering industries such as Manufacturing, Mining, Energy, EV, Construction, Healthcare + Food & Drink.
BizClik – based in London, Dubai, and New York – offers services such as Content Creation, Advertising & Sponsorship Solutions, Webinars & Events.