Top 10: Renewable Energy Companies in the USA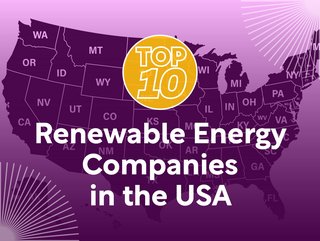 Top 10: Renewable Energy Companies in the USA
The top 10 renewable energy companies in the USA ranked by revenue include Constellation Energy Corporation, Duke Energy Corporation & The Southern Company
Renewable energy generates about 20% of all electricity in the USA — a percentage that is continually growing, according to the Office of Energy Efficiency and Renewable Energy. Looking at energy generation, 9.2% can be attributed to wind, 6.3% to hydropower, 2.8% to solar, 1.3% to biomass and 0.4% to geothermal. As renewable energy accounts for increasing generation of energy, companies that may traditionally produce energy from non-renewable sources are making the transition too, working towards net zero greenhouse gas emissions in line with national goals, and using the global transition as an opportunity to advance their offerings and develop internationally-leading technologies.
These top 10 renewable energy companies in the USA have been ranked by revenue, and are some of the companies taking the developing renewable energy market by storm.
CEO: Robert Blue
HQ: Richmond, Virginia
Revenue: US$17.1b
Dominion Energy is on a mission to deliver reliable, affordable and increasingly clean energy. As part of the company's sustainability strategy, Dominion is committed to reducing methane emissions from its natural gas infrastructure 55% by 2030. Inspired by the beautiful surroundings in Virginia, the company's wildlife protection has included converting 43,000 acres of open space to pollinator habitat, recycling concrete to expand two artificial reefs to create new fish habitats, and planting 6,000 plants to reestablish beach grasses to protect freshwater marshes.
CEO: Pedro J. Pizarro
HQ: Rosemead, California
Revenue: US$17.2b
Edison International is the parent company of Edison Energy and Southern California Edison (SCE) which was formed from predecessor companies going back to 1886. The company is currently working towards many sustainability and ESG goals including increased EV charging infrastructure, gender parity in senior operating roles by 2030 and public and worker safety goals.
CEO: Calvin Butler
HQ: Chicago, Illinois
Revenue: US$19b

Exelon is a Fortune 250 company serving more than 10 million customers through six fully regulated transmission and distribution utilities — Atlantic City Electric, Baltimore Gas and Electric, Commonwealth Edison, Delmarva Power & Light, PECO Energy Company, and Potomac Electric Power Company.
CEO: Jerry Norcia
HQ: Detroit
Revenue: US$19.2b
DTE is a diversified energy company involved in the development and management of energy-related businesses and services nationwide. Its operating units include an electric company serving 2.3 million customers in Southeast Michigan and a natural gas company serving 1.3 million customers in Michigan. The DTE portfolio also includes non-utility businesses focused on industrial energy services, renewable natural gas, and energy marketing and trading.
CEO: Julie Sloat
HQ: Columbus, Ohio
Revenue: US$19.6b
AEP serves nearly 5.6 million customers in 11 states through the largest electricity transmission network in the nation, stretching more than 40,000 miles. Founded in 1906, the company has about 25,000 megawatts of diverse generating capacity, including more than 7,100 megawatts of renewable energy.
CEO: John W. Ketchum
HQ: Juno Beach, Florida
Revenue: US$20.96b
Founded in 1925, NextEra Energy is one of America's largest capital investors in infrastructure, with between US$50bn and US$55bn in new infrastructure investments planned through 2022. In 2023, NextEra Energy was again ranked No. 1 in the electric and gas utilities industry on Fortune's list of "Most Admired Companies" for the 16th time in 17 years.
CEO: Patricia Poppe
HQ: San Francisco, California
Revenue: US$21.68b
Founded in 1905 in California, Pacific Gas and Electric Company is one of the largest combined natural gas and electric energy companies in the United States, providing natural gas and electric service to approximately 16 million people throughout a 70,000-square-mile service area in northern and central California. The company is committed to a net zero energy system in 2040—five years ahead of California's current carbon neutrality goal— as well as increasing renewable electricity by 70% and renewable natural gas by 15% by 2030.
CEO: Joseph Dominguez
HQ: Baltimore, Maryland
Revenue: US$24.44b
Constellation produces more than 32,400 megawatts of power and serves more than 20 million homes and businesses with clean energy, producing over 10% of the nation's clean energy to support the transition.
Dominguez oversees Constellation's clean energy fleet of nuclear, wind, solar, hydroelectric and natural gas facilities in 19 states, and the nation's top competitive retail and commodities business, which provides electricity, natural gas and other energy-related products and services to two million residential, public sector and business customers nationwide, including more than three-fourths of the Fortune 100.
CEO: Lynn Good
HQ: Charlotte, North Carolina
Revenue: US$28.77b
CEO Lynn Good is spearheading Duke Energy's ambitious climate objectives through an aggressive clean energy plan, including a minimum 50% reduction in carbon emissions by 2030, 80% by 2040, and achieving net-zero electricity generation by 2050. Duke Energy is overseeing the largest planned coal retirement in the industry and is targeting energy from coal to represent less than 5% of its total generation by 2030 and a full exit by 2035, subject to regulatory approvals.
"We're working to accelerate the transition to cleaner energy by adding significant amounts of renewables and energy storage, modernising and hardening the grid through investments in our transmission and distribution infrastructure," says Good. "We're exploring zero-emission power generation technologies such as hydrogen and advanced nuclear, extending the life of our existing nuclear fleet, and collaborating with stakeholders and policymakers to advance supportive energy policy."
CEO: Christopher Womack
HQ: Atlanta, Georgia
Revenue: US$29.28b

The Southern Company is a leading producer of clean, safe, reliable and affordable energy, founded a century ago after James Mitchell was inspired by the hydro potential of Alabama's rivers. The company is working towards a plethora of sustainability goals including 50% light-duty fleet by 2030, investing US$225m by 2025 to advance racial equity and social justice and achieve 50% GHG emissions reduction by 2030 (relative to 2007 levels) — in 2022, the company had already achieved 46% reduction.
"For our company, sustainability means effectively engaging with a broad range of stakeholders to develop strategic solutions that will enable our transition to a new energy economy," says Chris Womack, CEO and president.
"Our sustainability pillars reflect the work that we are doing across the company and in our communities to create long-term value."
*********************************************
For more energy insights check out the latest edition of Energy Digital Magazine and be sure to follow us on LinkedIn & Twitter.
You may also be interested in Sustainability Magazine and EV Magazine.
*********************************************
Net Zero LIVE will be hosted live from the QEII Centre, London on the 6th and 7th of March, and streamed globally via our virtual event platform Brella. Net Zero LIVE London will feature four LIVE themes, incorporating Sustainability LIVE, EV LIVE, Scope 3 LIVE, and Energy LIVE to deliver a holistic conference and exhibition experience with opportunities to connect with like-minded peers and actively contribute to crafting a sustainable future. Following Net Zero LIVE, viewers can also sign up for Sustainability LIVE Dubai and Singapore.
Sign up to the The Global Sustainability & ESG Awards 2024, coming to London on the 11th September 2024.
*********************************************
BizClik is a global provider of B2B digital media platforms that cover Executive Communities for CEOs, CFOs, CMOs, Sustainability Leaders, Procurement & Supply Chain Leaders, Technology & AI Leaders, Cyber Leaders, FinTech & InsurTech Leaders as well as covering industries such as Manufacturing, Mining, Energy, EV, Construction, Healthcare + Food & Drink.
BizClik – based in London, Dubai, and New York – offers services such as Content Creation, Advertising & Sponsorship Solutions, Webinars & Events.