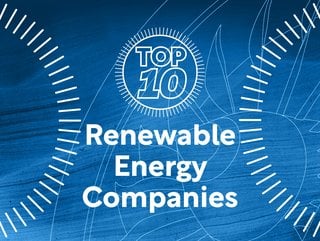 Top 10: Renewable Energy Companies
Energy Digital Magazine is glad to share the 10 companies at the forefront of renewable energy generation—leading the global shift to sustainable energy
In this issue of Energy Digital Magazine, we're celebrating the previous year's closing and the success of renewable energy firms driving down emissions while generating more access to sustainable energy sources.
The technology and innovation by these companies is what allows their revenues to climb, but society goes with them as they leave no stone unturned to find new ways of delivering more energy capacity and storage.
10. Algonquin Power & Utilities Corporation
Revenue: US$3.35bn
CEO: Arun Banskota
Algonquin Power & Utilities Corporation is built on three strategic pillars: growth, operational excellence, and, of course, sustainability. The company is in pursuit of new ways to help sustain energy and water resources to fuel an ever changing world.
The firm strives to make its mark and does so through renewable water, electricity, as well as the delivery of natural gas utilities—as a more sustainable option to other fossil fuels—to more than 1.2 million customer connections. Many of its clients are based within North America, but this leaves further scope for innovation.
9. Daqo New Energy Corporation
Revenue: US$4.14bn
CEO: Xiang Xu
The Chinese energy corporation delivers components for the success of solar PV systems, from its manufacturing facility located in Shihezi Xinjiang Province, China. Previously, Daqo New Energy Corporation manufactured silicon wafers in Chongqing.
The company changed to its current name in 2009 and operates through a number of subsidiary businesses, including Chongqing Daqo and Xinjiang Daqo. Much of its work has impacted the growth of solar energy installations across the globe as a key business in the renewable energy supply chain.
8. Brookfield Renewable Partners
Revenue: US$4.76bn
CEO: Mitch Davidson
As a subsidiary of Brookfield Corporation, the renewables arm contributed its fair share to its overall revenue in 2022. The company operates one of the largest publicly traded platforms for renewable power, which is also devised to support decarbonisation.
Diversification is key to the company's success with a foothold in hydroelectricity, wind power, solar, and distributed energy, sharing its sustainability products and services across five continents.
7. Canadian Solar
Revenue: US$7.03bn
CEO: Shawn (Xiaohua) Qu
A snapshot of the company's history shows great success in the realm of renewable energy, including 104 GW of solar modules shipped globally and 3 GWh of utility-scale battery storage infrastructure delivered.
Further, Canadian Solar has more than 160 countries buying into its solutions and 23+ manufacturing facilities across Asia and the Americas. By March 2024, the company plans to reach 10 GWh battery storage capacity and 59 GW of module capacity.
6. Jinko Solar Holding Company
Revenue: US$10.58bn
CEO: Xiande Li
JinkoSolar is known for its pioneering innovation "vertical integration" capacity from silicon wafer, solar cell, and module production. The company owns 14 global manufacturing facilities based across China, Malaysia, Vietnam, and the US, with production of these components expected to reach new heights by the end of 2023.
Serving more than 180 countries, home to 3,000 customers, Jinko Solar is driving more capacity for solar production, making it an industry leader.
5. Vestas Wind Systems
Revenue: US$15.46bn
CEO: Henrik Andersen
Vestas is a global ally in the energy sector with a primary focus on sustainable energy, in particular, wind power—as its name suggests. In this area of business the company designs, builds, instals and maintains a wealth of energy infrastructure amounting to 169 GW across 88 countries.
The company is now harnessing data to further drive its performance in the wind energy arena with unparalleled solutions and equally crucial insights to equip its expert team 29,000+ strong with industry professionals.
4. NextEra Energy
Revenue: US$19.84bn
CEO: John Ketchum
NextEra Energy has approximately US$85bn to US$95bn of planned investments in US infrastructure, which it will see through to 2025. Known as the top electric and gas utilities provider by Fortune's 2023 World's Most Admired Companies list, NextEra was founded in 1925, making it a veteran business in the energy space.
Aside from its effects on the renewable energy market, the company has seen great commercial success with a shareholder return of 480% over the last 15 years.
3. Constellation Energy Corporation
Revenue: US$22.64bn
CEO: Joseph Dominguez
Constellation Energy Corporation stands as the premier provider of carbon-free energy in the US, extending its sustainable solutions to residential, commercial and public sector applications across the country.
Constellation is driving the shift towards a carbon-neutral future with expansion of its low- to zero-carbon energy. Empowering its clients and communities, the company gives them the choice to make an impact by acquiring, overseeing the green energy journey for them to source electricity sustainably.
2. Iberdrola
Revenue: US$53bn
CEO: Armando Martínez Martínez
The company was created in 1992 at the time of a merger between Hidroeléctrica Española and Iberduero. The companies were originally born in Spain to deliver hydroelectric power, making it a sustainable business at its very core.
Headquartered in Bilbao, Spain, Iberdrola is now a multinational corporation and the second largest earner on the planet, gaining its increasing revenue from more sustainable energy practices.
1. General Electric
Revenue: US$75.07bn
CEO: Henry Lawrence Culp Jr
Multifaceted in its approach to sustainability, General Electric is responsible for some of the most significant developments in the energy sector. With more than 130 years of innovation in the bag, the company is a global figure for renewable energy engineering with a legacy of support for both utilities, aviation and manufacturing as key components of an electrified future.
One of the main project areas of GE at the moment is wind energy where it delivers approximately 67 GW of electricity to countries across the globe thanks to a supply of more than 40,000 wind turbines to a global client base.