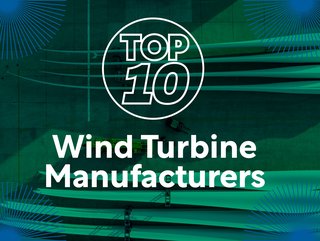 Top 10 Wind Turbine Manufacturers
Our Top 10 wind turbine manufacturers include Vestas, Siemens Gamesa, Goldwind, Nordex, Enercon, General Electric, Envision and Suzlon
According to the International Energy Agency, expanding the share of electricity in buildings' final energy consumption is a key milestone to reach in the Net Zero Emissions by 2050 Scenario (NZE Scenario), which sees solar and wind supply used in electricity generation rise from 9% in 2020 to 40% in 2030.
Driven by technology cost reductions, policy support and technology maturity, the share of solar PV and wind in electricity generation will reach 68% by 2050 in the NZE Scenario.
In line with increased demand and necessity of renewable energy sources including wind, industry leading manufacturers are essential. We've taken a dive into ten of the top wind turbine manufacturers accelerating the global energy transition.
10. CSIC (China Haizhuang)
CSIC is the first company in China with a complete supply chain in the wind power sector, including:
Components manufacturing
R&D and manufacturing
Offshore wind project construction and installation
Offshore transmission line installation
The company adheres to the enterprise spirit of 'Catch the Wind, Equip the World', with the mission to practise new development concepts and support new energy strategies.
With roots as far back as 1880, Shanghai Electric is a leading global supplier of industrial-grade eco-friendly smart system solutions, dedicated to smart energy, intelligent manufacturing, and the integration of digital intelligence. In the smart energy field, we are creating solutions for multi-energy complementation between wind, solar, and hydrogen storage, as well as an integrated process of generation, grid, load, and storage.
Operating in 17 countries globally and headquartered in India, Suzlon is one of the leading renewable energy solutions providers, providing end to end solutions in multiple forms of green energy.
There remains no doubt that rapid adoption of renewable energy will be key to our world's future," says Dharini Mishra, Head of Corporate Communications, ESG and Transformation at Suzlon.
"It is a fantastic opportunity and privilege to work in renewables but it is also a massive responsibility."
Based in Shanghai, China, Envision provides energy management software, and energy technology services alongside operating as one of the world's largest wind turbine manufacturers. The company has installed over 2400 wind turbines globally and its software is used in over 6,000 wind turbines in North America, Europe, Latin America and China.
It is the first company in the industry to develop the 'smart turbine' with its exclusive core technology of smart control advanced measurement method, expert data analysis system, active performance control and reliability-based deterministic turbines.
General Electric (GE) is an American energy company working within the transportation, power, devices and environment sectors. With over 25,000 wind turbines installed globally, GE is one of the world's leading wind turbine suppliers. Its portfolio of turbines features rated capacities from 1.7 MW to 4.8 MW (Onshore) and 6 MW to 12 MW (Offshore).
"Climate change cannot be solved without substantial advancements in technology," believes H. Lawrence Culp, Jr, CEO of GE.
"As a company whose people have led innovation for more than 120 years, we are uniquely positioned and are deploying GE's global reach, expertise and depth of engineering capabilities to address this urgent challenge."
German wind turbine manufacturer Enercon has been an industry leader for more than 30 years, assuming responsibility for creating sustainable, pioneering and future-proof renewable energy generation and supply concepts, creating sustainable solutions that make a significant contribution to the growing global energy demand.
"To contribute to the preservation of creation with my abilities, is my mission, so that our planet remains habitable," said Dr Aloys Wobben, founder of Enercon.
The development, manufacture, project management and servicing of onshore wind turbines has been the core competence and passion of the Nordex Group and its more than 9,600 employees worldwide for over 35 years. Since the merger with Acciona Windpower in 2016, the Nordex Group has become a global player and one of the world's largest wind turbine manufacturers. Nordex offers high-yield, cost-efficient wind turbines that enable long-term and economical power generation from wind energy in all geographical and climatic conditions.
Goldwind is a global leader of clean energy, energy conservation and environmental protection, committed to promoting energy transformation to attain access to affordable, reliable and sustainable energy for all, and to drive a renewable future.

Founded in 1985, the emerging Goldwind took the opportunity of China's reform and opening up to explore the global wind power market. By late 2019, Goldwind has installed a total capacity of over 50GW wind turbines in more than 20 major countries around the world. It now specialises in wind power, internet of energy and environmental protection, leveraging strong scientific research innovation and best business practices to take renewable energy utilisation efficiency to new heights.

The wind blowing reveals infinite possibilities according to Siemens Gamesa. Working to blend nature and engineering, it produces clean energy to keep us moving all over the world — from the largest cities to the most remote corners of the planet.
With over 40 years experience in the sector, the company utilises cutting-edge technology that harnesses the power of wind and unlocks its future potential to tackle the climate crisis.
Siemens Gamesa's team of 28,150 individuals from over 100 nationalities install and service thousands of turbines, generating over 130GW of wind power all over the world — enough clean energy to power more than 110 million households annually. The Borssele offshore wind farm, located off the coast of the Zeeland province in the Netherlands, provides energy to 1,000,000 homes in the country thanks to its 94 Siemens Gamesa turbines providing 752MW.
The company believes in clean energy as the future of tomorrow, using it to fuel not only the energy transition but also opportunities in communities including the development of sustainable growth and value, skill development and increased crucial infrastructure.
Founded in 1898, Denmark-based Vestas specialises in the manufacturing, installation and service of offshore and onshore wind turbines, holding over 16% of the world wind turbine market.
On a daily basis, the company's workforce, comprising 29,000 employees, contributes to the betterment of the world through involvement in the global design, fabrication, installation, advancement, and upkeep of wind energy and hybrid projects. Their achievements include the successful installation of over 169 gigawatts (GW) of wind turbines across 88 nations, resulting in the prevention of a substantial 1.5 billion cubic tonnes of carbon-dioxide emissions into the atmosphere.
At its core, the company holds an impressive legacy and paramount expertise in wind energy, which is a result of almost 80 years of operation in the sector. A firm conviction holds that wind power will stand as the bedrock of forthcoming sustainable energy systems. Consequently, their unwavering focus persists in conceiving solutions that expedite the energy transition, thereby fortifying the company's perpetual dominance in the domain of wind energy.
******************
For more energy insights check out the latest edition of Energy Digital Magazine and be sure to follow us on LinkedIn & Twitter.
You may also be interested in Sustainability Magazine and EV Magazine.
Please also check out our upcoming event - Sustainability LIVE in London on September 6-7 2023.
BizClik is a global provider of B2B digital media platforms that cover Executive Communities for CEOs, CFOs, CMOs, Sustainability Leaders, Procurement & Supply Chain Leaders, Technology & AI Leaders, Cyber Leaders, FinTech & InsurTech Leaders as well as covering industries such as Manufacturing, Mining, Energy, EV, Construction, Healthcare + Food & Drink.
BizClik – based in London, Dubai, and New York – offers services such as Content Creation, Advertising & Sponsorship Solutions, Webinars & Events.