DHL's biofuel trucks reduce Formula 1's carbon emissions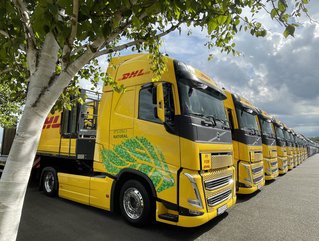 "It is great to see how our logistics operations can transform to achieve our Net Zero by 2030 goal," says Ellen Jones, Head of Environment, Social and Governance at Formula 1. Credit | Formula 1
DHL's new fleet of trucks reduced Formula 1's carbon emissions by an average of 83% across the European leg of the 2023 FIA Formula One World Championship
Across the nine European rounds of the 2023 FIA Formula One World Championship, the new 18 trucks were powered by HVO100 drop-in fuel (hydrotreated vegetable oil, HVO100 is a second-generation biofuel, meeting the standard EN15940 for paraffin fuels) and travelled over 10,600 km, transporting an average of 300 tonnes of freight per race.
The biofuel-driven trucks maintain the same level of performance in terms of load capacity and travel distance as their diesel counterparts.
The 83% figure was calculated by a voluntary certification organisation approved by the European Union through a certification of carbon emissions using a methodology aligned with the European RED II Directive (2018/2001)), and compared the biofuel tracks to fuel-driven trucks that have been used previously.
"The introduction of 18 new biofuel-powered trucks this season marks a significant stride towards a more sustainable future for both Formula 1 and DHL," says Paul Fowler, Head of DHL Motorsports Logistics.
"Achieving an 83% average reduction is a remarkable accomplishment, and we take great pride in it. As the Official Logistics Partner for Formula 1 and a leader in green logistics, we are pleased to contribute to Formula 1's sustainability goals."
Formula 2 and DHL partnering for sustainability
Formula 1 racing began in 1950 and is the world's most prestigious motor racing competition, as well as the world's most popular annual sporting series.
DHL is the leading global brand in the logistics industry, offering logistics services ranging from national and international parcel delivery, e-commerce shipping and fulfilment solutions, international express, road, air and ocean transport to industrial supply chain management. Operating in more than 220 countries and territories worldwide, DHL connects people and businesses securely and reliably, enabling global sustainable trade flows. DHL Group aims to achieve net-zero emissions logistics by 2050.
"It is great to see how our logistics operations can transform to achieve our Net Zero by 2030 goal," says Ellen Jones, Head of Environment, Social and Governance at Formula 1.
"Reductions such as 83% with the use of the biofuel-powered trucks provide a fantastic platform to build upon, which we will analyse and then continue to deliver in our 2024 season, ensuring that these savings move from a single initiative to business-as-usual carbon reductions. Transport and logistics make up a significant portion of our carbon footprint in our sport, and it is crucial to have like minded partners like DHL that are committed to working with us to drive these down and help us realise our net zero target."
The success of the biofuel trucks is setting a standard for the racing brand, with use of biofuel continuing as Formula 1 and DHL explore further opportunities and sustainable innovations to propel the sport towards being Net Zero by 2030.
"Our partnership with Formula 1 showcases our shared dedication to making logistics more sustainable and reducing our carbon footprint," says Arjan Sissing, Head of Global Brand Marketing at Deutsche Post DHL Group.
"As an industry leader in green logistics, the 18 trucks further contribute to a lower emission DHL fleet, where we show to our fans and customers that it is possible to bring the excitement of Formula 1 races around the world in a sustainable way."
Future of sustainable racing
In 2026, alongside the introduction of the next-generation hybrid engine, Formula 1 cars will be powered by advanced sustainable fuel, which could have a hugely positive impact on the wider automotive and transport industry with drop-in capabilities. This year's F2 and F3 Championships have been powered by 55% sustainable fuel in partnership with Aramco, with the latter concluding at the Italian Grand Prix.
******
For more energy insights check out the latest edition of Energy Digital Magazine and be sure to follow us on LinkedIn & Twitter.
You may also be interested in Sustainability Magazine and EV Magazine.
*********************************************
BizClik is a global provider of B2B digital media platforms that cover Executive Communities for CEOs, CFOs, CMOs, Sustainability Leaders, Procurement & Supply Chain Leaders, Technology & AI Leaders, Cyber Leaders, FinTech & InsurTech Leaders as well as covering industries such as Manufacturing, Mining, Energy, EV, Construction, Healthcare + Food & Drink.
BizClik – based in London, Dubai, and New York – offers services such as Content Creation, Advertising & Sponsorship Solutions, Webinars & Events.