Road Power Technology Offers New Fuel Option to Drivers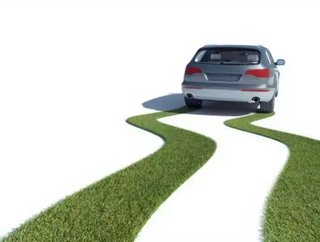 Click here to view this article in April's issue of Energy Digital On the long road to global decarbonization in the transportation sector, there...
Click here to view this article in April's issue of Energy Digital
On the long road to global decarbonization in the transportation sector, there is no single universal solution. Progress in the electric vehicle market is slow and the use of public transportation can only reduce so many fuel-emitting vehicles on the road when rising populations continue to swell traffic overall more with each year. Realistically speaking, the planet needs intermediate solutions to bridge the long gap of time from where we are now until arriving in the highly sought after carbon-neutral future. For renewable energy, natural gas will play that role. For gas guzzling cars, perhaps, road powered vehicles will do the same.
In the UK, two veteran clean tech entrepreneurs, Andrew Howe and Andrew Dames, are developing Road Powered Electric Vehicle (RPEV) technology that could easily be fitted to major trunk roads/highways, using the same technique already established for traffic light presence detection. Under the company Ampium, Howe and Dames have combined their vast knowledge of induction systems to introduce on-board pick-up coils used to transfer grid electricity directly to any car, be it electric, hybrid or gasoline powered. The coil is a cost-effective, easy-to-install solution to heavy and expensive on-board energy storage batteries.
"The idea is that we can decarbonize the vehicle and solve the energy storage problem by removing the requirement of a battery on the vehicle," says Howe. "We also wanted to ensure low cost infrastructures, so we adopted an existing standard used widely in the UK, Europe and US that involves putting wires into the road."
Essentially, the road itself simply becomes another fuel option for the driver in the areas equipped with Road Power technology. The device could be added to any vehicle, truck or bus for a price as low as $1,500, according to rough estimates from consulting firms.
"We see the lightweight pickup coil as a hybrid solution—much cheaper than bulk energy storage that allows existing engines to continue running on their main source of fuel," says Howe. "There's a significant margin available between the price of energy at your wheels coming from diesel versus the cost of grid electricity."
Hitting Emissions Reduction Targets
The tail-pipe emissions-zapping device could play a large role in cutting the 428 million tons of carbon dioxide emitted annually in the country from vehicle transportation alone. Although the technology will only be immediately available throughout the UK, it will become available on main roads in high-trafficked areas, where the most damage is done.
"Because we're installing infrastructure, we're looking at places with short lengths frequently used by the repetitive drivers," says Howe, adding that Ampium is now in talks with large bus manufacturers for trials.
In its infancy, Ampium expects public demonstrations of the technology to be available in the next one to two years, which is expected to include an initial bus route deployment. Last year, the company successfully demonstrated a power transfer of 20kW from the road into a Toyota Prius fitted with technology, enabling the vehicle to continuously receive the charge necessary to drive at speeds reaching the UK legal limit.
The long term success of RPEVs, however, will ultimately depend on collaboration between automotive manufacturers, road infrastructure providers, the electricity supply industry and technology providers.
"We've seen a great degree of interest from governments and automotive companies in our pioneering alternative fuel solution following the success of our tests so far," Howe said in a statement. "Europe announced in July €10m of research funding for road power transfer and I believe that we will see public road demonstrations inside five years, probably first on buses but also HGVs which travel 65 percent of their miles on the approximately 6,000 miles of the UK's trunk road network.
"In that time, how much higher will the price of a barrel of oil be?" Howe asks. "Considering the uptake of road transport around the world and our ability to meet growing demand for fuel will continue to drive this kind of technology now."