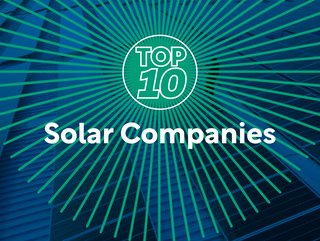 Top 10 Solar Companies
Energy Digital's choices for Top 10 global companies providing renewable solar energy include First Solar, JinkoSolar Holding Co., and Canadian Solar Inc
"There is no conflict between profitable business and sustainable business — both go hand in hand," believes Ronen Faier, Chief Financial Officer at SolarEdge.
The solar industry is one of the fastest-growing industries. Today, over two million homes in the United States use solar energy, and these numbers are expected to grow over the coming years both in the US and globally, despite the increasing cost of photovoltaic (PV) panels.
As the global energy transition develops, the world's largest companies are working alongside the individual homeowner to swap to renewable energy where possible, and we've taken a dive into some of the top global companies providing solar energy and contributing to achieving a zero-carbon footprint.
Seoul based Qcells runs the world's first production line dedicated to perovskite-silicon tandem solar cells in Jincheon.
The company has committed a substantial investment of US$100m to bring this next-generation solar cell technology — which has the potential to boost efficiency by 50-75% compared to standard solar panels — from the realm of lab tests and academic research to practical application.
"This investment in the Jincheon facility marks an important step in securing technological leadership," said Justin Lee, CEO of Qcells.
"With a global R&D network spanning from Korea, Germany and the US, Qcells will ramp up its efforts to produce high-efficiency advanced tandem cells."
LONGi Green Energy Technology Co., Ltd. (also known as LONGi Solar or LONGi), is a Chinese company that specialises in the research, development and manufacturing of solar photovoltaic (PV) products.
Founded in 2000, LONGi Solar is one of the world's largest manufacturers of monocrystalline silicon wafers, cells, and modules, with a total module shipment volume of over 30 GW in 2021. The company is known for its high-efficiency solar products, including its monocrystalline solar panels, which have some of the highest conversion rates in the industry.
LONGi has operations in China, Japan, the United States, Germany, India, Malaysia and other countries, including residential, commercial, and utility-scale solar power systems.
American energy company NextEra Energy is the world's largest utility company with a market capitalisation of over US$100bn. The company has reduced America's dependency on foreign oil by 98% since 2001, producing electricity through solar, wind, nuclear, natural gas facilities, and coal. NextEra's electricity generating capacity is 24.6GW across North America — 67% from wind, 14% from solar, 9% nuclear, and 10% from other sources.
NextEra was founded in 1925 as Florida Power and Lighting Company. Back then, the company owned power plants, ice companies, gas plants, and even ice cream services. It was later renamed NextEra Energy in 2010 to show its commitment to serving customers outside of Florida.
Solar energy company Sunrun Inc. develops, manufactures, sells, instals and maintains solar energy systems in 22 states, Washington DC and Puerto Rico. Founded over 15 years ago, its products range from large-scale energy projects to rooftop panels and batteries for homes, including the Tesla Powerwall.
It was selected by Puerto Rico to rebuild its energy systems and to create a large-scale energy storage solution to address concerns over an increase in severe weather events and damages.
Maxeon Solar Technologies specialises in the production and sale of solar energy products, including solar cells, modules, microinverters, and storage solutions. It is headquartered in Singapore and has a global presence in over 100 markets. Maxeon's Mexicali, Mexico module production facility is also first and only certified, zero-waste-to-landfill solar panel factory.
Originally part of SunPower Corporation, Maxeon spun off in August 2020 to become an independent entity, now operating the SunPower brand in all global markets and the Maxeon brand in the United States, Canada and Japan.
Going beyond the world-renowned solar panels, Maxeon is developing a complete suite of intelligent energy solutions that include batteries, chargers and other best-in-class services.
Established in 2006, SolarEdge developed the DC optimised inverter solution that changed the way power is harvested and managed in photovoltaic (PV) systems.The company now builds and distributes equipment and technology for photovoltaic arrays, alongside providing optimisation services and monitoring solutions for photovoltaic systems.
Based in Herzliya, Israel, SolarEdge monitors sites in over 130 countries, and over 2,600,00- systems globally.
SolarEdge claimed a record annual solar revenue of $2.92 billion in 2022 and anticipates continued growth after seeing its revenue increase by 63% from 2021.
"Our mission is to shape the future of sustainable energy - focussing on clean energy production, management, storage and e-Mobility," says Zvi Lando, CEO.
"This reflects our commitment to protecting the environment for generations to come."
SunPower specialises in designing solar solutions, providing photovoltaic solar energy for residential properties in all 50 US states. Founded in 1985 and headquartered in California, the company achieved a remarkable 63% year-over-year growth rate in 2022, growing revenue from US$347m in 2021 to US$492m in 2022.
SunPower is partnered with General Motors to be the exclusive installer of electric vehicle chargers for the company.
"We are proud to work alongside GM, a stalwart in American innovation, to seamlessly connect home energy and electric vehicles. This is a vital next step toward making an all-electric lifestyle easy and even more beneficial," says Peter Faricy, SunPower CEO.
Dr. Shawn Qu, the current president and chief executive, founded Canadian Solar in 2001 with a bold mission to foster sustainable development and to create a better and cleaner earth for future generations by bringing electricity powered by the sun to millions of people worldwide.
Canadian Solar has the capacity to meet the clean energy needs of around 17.7 million households, and has delivered 75GW of solar modules to thousands of customers in more than 160 countries from its 23 manufacturing facilities in the Americas and Asia. The company's products are used in a wide range of applications, from residential and commercial buildings to utility-scale solar power plants.
The company has received several awards over the years, including the Top Bankable Manufacture Rated by Bloomberg New Energy Finance. Other awards are the Tier 1 Solar Company by Bloomberg New Energy which they got from 2017-2020.
JinkoSolar is a Chinese holding company that specialises in the production of solar cells, modules, and other solar energy-related materials. It is considered one of the top global producers of solar panels based on gigawatts delivered at 165GW. The company serves customers in over 180 countries across various regions including China, the U.S., Europe, the Middle East, and South America.
In 2022, JinkoSolar experienced significant growth, with its quarterly module shipments globally doubling year-over-year, and shipments to China increasing five-fold during the same period.
The company's ethos is 'changing the energy portfolio and taking responsibility for enabling a sustainable future,' focusing on integrated research, development, and manufacturing of photovoltaic products, as well as providing comprehensive clean energy solutions, leading in sales in the global mainstream photovoltaic market.
JinkoSolar pioneered the "vertical integration" capacity from silicon wafer and cell to module production in the industry. It owns 14 globalised manufacturing bases in China, Malaysia, Vietnam, and the United States. By the end of 2023, the company's monocrystalline silicon wafer, cell and module production capacity will reach 85GW, 90GW and 110GW respectively, of which the N-type production capacity will account for more than 75%, and the N-type production capacity scale is leading the industry.
Headquartered in Tempe, Arizona, First Solar is a global provider of solar energy services that aims to make solar energy affordable and accessible to homeowners and businesses. The company's focus on high-efficiency solar panels has enabled it to generate more electricity from each panel than its competitors, making it one of the world's most efficient solar companies and one of the largest solar panel manufacturers globally.
First Solar is a vertically integrated manufacturer that specialises in designing, producing, and installing PV systems for commercial, industrial, and utility customers. The company's solar panels use thin film technology, which provides greater flexibility than traditional crystalline silicon panels, while also being more efficient.
It is the largest American solar manufacturing company that uses technology to optimise solar energy generation performance, enabling the increase of the energy grid and lowers the levelised cost of electricity (LCOE).
Over the years, they have financed, developed, engineered, and operated some of the world's largest grid-connected P.V. power plants. Additionally, they have advanced designs of series 6 and series 6 plus that offer an advanced design meant to produce electricity with the lowest carbon footprint possible. First Solar also has other services such as renewable energy finance, maintenance and end-of-life panel services, and construction of facilities.
******
For more energy insights check out the latest edition of Energy Digital Magazine and be sure to follow us on LinkedIn & Twitter.
You may also be interested in Sustainability Magazine and EV Magazine.
Please also check out our upcoming event - Sustainability LIVE in London on September 6-7 2023.
BizClik is a global provider of B2B digital media platforms that cover Executive Communities for CEOs, CFOs, CMOs, Sustainability Leaders, Procurement & Supply Chain Leaders, Technology & AI Leaders, Cyber Leaders, FinTech & InsurTech Leaders as well as covering industries such as Manufacturing, Mining, Energy, EV, Construction, Healthcare + Food & Drink.
BizClik – based in London, Dubai, and New York – offers services such as Content Creation, Advertising & Sponsorship Solutions, Webinars & Events.
​​​​​​​