Berliner Stadtwerke & EON to power new smart city Berlin TXL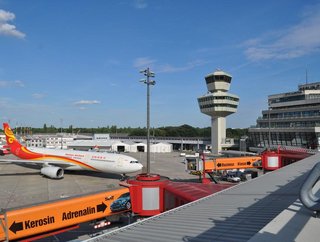 Tegel Airport. Credit | Sven Prinzler
Berliner Stadtwerke & EON employ low-temperature network LowEx2 in new climate-neutral smart city Berlin TXL, explains Gudrun Sack, Tegel Projekt GmbH
Formerly Tegel Airport, Berlin is creating a smart city of the future.
Using, rather than demolishing, the majority of buildings — many of which are listed — to create a model district for sustainable urban innovation, Berlin TXL.
Berlin TXL, or The Urban Tech Republic, will focus on what keeps the 21st century's growing major cities alive, specifically the efficient use of energy, eco-friendly mobility, clean water, recycling, sustainable construction and application of new materials, networked control of systems and areas for industry, trade and science.
It will cover 1,236 acres, with the first stage of the building project starting in autumn 2021 and completion due by 2040. The project is being managed by state-owned Tegel Projekt GmbH.
The site is developing into three key areas:
The Urban Tech Republic will be home to around 1,000 businesses with approximately 20,000 employees, as well as Berliner Hochschule für Technik University and its more than 2,500 students.
Schumacher Quartier will provide upwards of 5,000 homes for more than 10,000 people, together with the corresponding amenities such as schools, daycare centres, shopping facilities, and lots of greenery. A further 4,000 homes are planned for the neighbouring districts of Cité Pasteur and TXL Nord. All partners involved have agreed to prioritise housing for all, urban green space, climate-friendly and water-sensitive urban development, district with environmentally-friendly mobility guaranteed and communication, participation, and transparency, in line with German strategy.
Urban Heathland forms a bridge between the city and nature and completes the pioneering concept of Berlin TXL. The state-owned company Grün Berlin GmbH is taking on the task of gradually transforming the former airfield and runway.
Sustainably powering the developing city

A partnership between Berliner Stadtwerke and E.ON will supply heat and cooling to The Urban Tech Republic and the Schumacher Quartier in Berlin TXL using a pioneering low-temperature network called LowEx2.
In line with the city's climate neutral goals, the pioneering low-temperature network uses 80% less fossil fuel through cutting distribution losses, instead using local energy.
"Various building blocks come into play that are aimed not only at climate neutrality but also at climate resilience," explains Gudrun Sack, Managing Director of Tegel Projekt GmbH.
"For example, we focus on sustainable raw materials, renewable energies, the sensible use of resources, and a conscious look at the CO2 footprint we leave behind — in everything we do.
"Our big issue is the circular economy. We don't think in terms of consumption, but in terms of reusing and recycling raw materials within a closed-loop system. We hardly ever demolish buildings, for example, but instead convert them or recycle the concrete from the many sealed surfaces."
******
For more energy insights check out the latest edition of Energy Digital Magazine and be sure to follow us on LinkedIn & Twitter.
You may also be interested in Sustainability Magazine and EV Magazine.
Please also check out our upcoming event - Sustainability LIVE in London on September 6-7 2023.
BizClik is a global provider of B2B digital media platforms that cover Executive Communities for CEOs, CFOs, CMOs, Sustainability Leaders, Procurement & Supply Chain Leaders, Technology & AI Leaders, Cyber Leaders, FinTech & InsurTech Leaders as well as covering industries such as Manufacturing, Mining, Energy, EV, Construction, Healthcare + Food & Drink.
BizClik – based in London, Dubai, and New York – offers services such as Content Creation, Advertising & Sponsorship Solutions, Webinars & Events.