Capturing carbon: The environmentally-friendly vacuum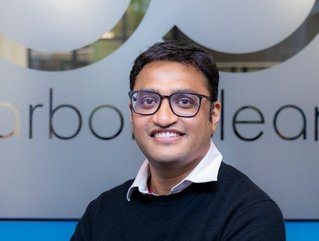 The role of carbon capture could be instrumental in meeting net-zero goals – Carbon Clean's Co-Founder, Prateek Bumb, offers his insight
The research is clear: if we want to avoid the disastrous effects of climate change, we must reduce the amount of carbon dioxide in our atmosphere.
Even with the mass production of solar panels and wind turbines, reaching net-zero is going to require capturing large amounts of emissions from activities that are hard to decarbonise, such as making cement.
Enter: carbon capture. CCUS (carbon capture, utilisation and storage) involves the capture of carbon dioxide (CO2) emissions from industrial processes, such as steel and cement production, or from the burning of fossil fuels in power generation, and burying it deep underground. In some instances, the captured CO2 can be repurposed to create products such as synthetic fuels and cement – an environmental recycling of sorts.
Carbon capture, however, does not come without its unique set of challenges – the immense cost of such technologies being one.
Since 2010, dozens of projects have failed to come to fruition because the technology involved with carbon capture is simply too costly. At the moment, there are only about two dozen large-scale facilities that use CCUS – capturing roughly 40mn tonnes of carbon, annually.
Amongst the global leaders of the CCUS industry is Carbon Clean. The company was awarded a 'Technology Pioneer' award by the World Economic Forum, and was recently selected as one of Cemex Ventures' Top50 ConTech Startups, and named a 2021 Global Cleantech 100 company.
The company recently launched the world's smallest carbon capture technology, CycloneCC. Ten-times smaller than the industry standard, Cyclone CC can be deployed at most industrial sites in only 8 weeks. It's predicted to drive down the cost of carbon capture to $30 per tonne on average – half the price of the EU's August carbon price ($60 per tonne on 30.08.21).
To better understand the role of CCUS, we talked to the CTO and co-founder of Carbon Clean, Prateek Bumb.
Carbon Clean's history
Carbon Clean was founded to solve a critical climate challenge – decarbonising heavy industry, which accounts for around 30% of global emissions. We are an innovation leader in point source carbon capture, developing cost-effective solutions to accelerate the global deployment of CCUS, especially in hard-to-abate sectors such as cement, steel, refineries and energy from waste. We've achieved big things at Carbon Clean since we founded the company in 2009 – relocating to the UK from India after we received funding from the UK government – launching CycloneCC, the world's smallest industrial carbon capture solution, in 2021 and raising a record $150mn in funding earlier this year. Our technology has already captured 1.7mn tonnes of CO2. Now, we're aiming to capture a billion tonnes by the mid-2030s.
Which countries are you present in?
Our technology is proven at scale across 49 sites worldwide, including in the UK, US, Japan, German, India, Norway and the Netherlands. We have also delivered the world's largest industrial-scale carbon capture and utilisation plant for Tuticorin Alkali Chemicals & Fertilizers Ltd, India, and are key members of the Acorn Project in Scotland.
How is CCS integral to the net-zero goal?
Our business is founded on the belief that achieving net zero isn't a pipe dream, it's a necessity. But getting there will take much more than a focus on renewables. Hard-to-abate industries like steel, cement, energy from waste and refineries are a key part of the global economy and can play a crucial part in global carbon reduction. This year, we've seen a marked shift in decarbonisation commitments by industry, with many of the companies we're talking to aiming for a 30% reduction by 2030. CCUS, alongside other green technologies, will play an integral role in helping the industry achieve those goals. We're confident that, with the right investment and political landscape, the road to net-zero is clear.
We see the energy transition as imperative, irrespective of market conditions. The energy crisis has demonstrated the continued need for hard-to-abate sectors and while this remains the case, the need for CCUS is clear.
How does the company raise funding?
To date, Carbon Clean has raised $195mn through a combination of public and private sector investment. Carbon Clean recently closed a $150mn Series C round led by Chevron, with participation from existing investors CEMEX Ventures, Marubeni Corporation and WAVE Equity Partners, and new investors AXA IM Alts, Samsung Ventures, Saudi Aramco Energy Ventures and TC Energy.
We've also been the recipient of British government funding on three occasions, including at the SEED stage, prior to private investment. It was pivotal to our growth.
Tell us about the innovations and technology driving Carbon Capture?
We know carbon capture is essential to delivering industrial decarbonisation and net zero, but the current installed capacity is way off what's needed. As an innovation leader in the sector, with more patents than any other CCUS technology provider, Carbon Clean is determined to address this delivery gap.
Our new generation of standardised, fully modular, skid-mounted carbon capture units are key to accelerating global CCUS deployment. Prefabricated, delivered on a truck and installed in around eight weeks, these units are revolutionising a 50-year-old technology by overcoming two of the biggest barriers to deployment – space and cost.
What's been your biggest lesson?
I've learned that risk and reward go hand-in-hand – you can't be afraid of taking risks if you want to succeed, and you need to know that failure is part of the process. Take our CDRMax solvent for example, which is a key part of the solutions we offer to our clients now; we went through 14 failed chemical formulas before finally getting it right. An equally important lesson I've learned since founding the company is that having a team that believes in your vision is key.
What comes next?
Our focus over the next 12-18 months is delivering on the promise of our $150mn Series C funding round. We want to ramp up the commercial roll-out of our breakthrough carbon capture solutions, expand our team to deliver on our growing order book, and develop our Carbon-Capture-as-a-Service (CCaaS) proposition for heavy emitters.