Amazon's Sustainability Report outlines the future of energy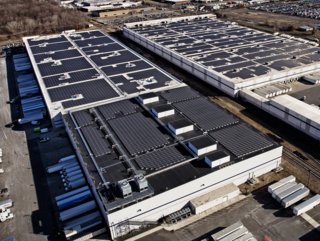 Solar rooftops on Amazon buildings generate sustainable energy. Credit | Amazon
Amazon's Vice President, Head of Worldwide Sustainability, Kara Hurst, prioritises renewable energy and EVs in response to 2022 Sustainability Report
Amazon's 2022 Sustainability Report presents the company's goals and progress in a range of ESG areas.
Among the achievements is a 0.4% decrease in absolute carbon emissions working towards its net-zero carbon emissions by 2040 goal, and the progress of its The Climate Pledge programme.
You can read our overview of Amazon's 2022 Sustainability Report here.
Working towards net zero by 2040 as part of The Climate Pledge
Co-founded by Amazon and Global Optimism in 2019, The Climate Pledge invites companies and groups to make their own ambitious climate commitments, with more than 390 companies across 36 countries having signed the pledge by the end of 2022.
"We are creating a community that inspires each other to do more, and to out-innovate even ourselves as we know we can't do this alone," says Kara Hurst, Vice President, Head of Worldwide Sustainability at Amazon.
"We are determined to keep bringing on new partners to help combat climate change."
Focussing on renewable energy to boost Amazon's sustainability
Transitioning to renewable energy is one of the most impactful ways to lower emissions, according to Amazon's report.
As of January 2023, Amazon had announced 401 renewable energy projects representing over 20 gigawatts of clean energy capacity. The company aims to power its operations with 100% renewable energy by 2025, pulled forward five years ahead of the original 2030 target. According to the 2022 report, 90% of the electricity consumed by Amazon was attributable to renewable energy sources, up from 85% in 2021 and 42% in 2019.
It is also reaching out into its supply chain, asking suppliers and partners to make the switch to renewable energy to boost supply chain sustainability.
"We are investing in renewable energy around the world, with our teams analysing routes and distances to build a logistics system that gets packages to customers faster, with fewer emissions," Hurst explains.
"We are also transitioning our fleet to roll out 100,000 Rivian electric delivery vehicles by 2030, with thousands on the road now.
"Last year, 90% of the electricity we used for Amazon's operations was powered by renewable energy sources, like wind and solar—and we were the largest corporate buyer of renewable energy, for the third year in a row."
*****
For more energy insights check out the latest edition of Energy Digital Magazine and be sure to follow us on LinkedIn & Twitter.
You may also be interested in Sustainability Magazine and EV Magazine.
Please also check out our upcoming event - Sustainability LIVE in London on September 6-7 2023.
BizClik is a global provider of B2B digital media platforms that cover Executive Communities for CEOs, CFOs, CMOs, Sustainability Leaders, Procurement & Supply Chain Leaders, Technology & AI Leaders, Cyber Leaders, FinTech & InsurTech Leaders as well as covering industries such as Manufacturing, Mining, Energy, EV, Construction, Healthcare + Food & Drink.
BizClik – based in London, Dubai, and New York – offers services such as Content Creation, Advertising & Sponsorship Solutions, Webinars & Events.