Economic, social & environmental sustainability at Hoyer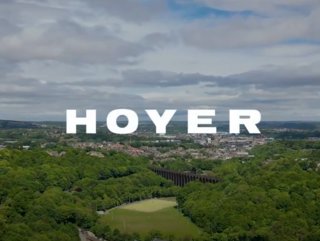 Allan Davison is HOYER Group's Executive Director for Gas & Petroleum Logistics. He discusses the partnership with Total Energies & sustainability goals
The HOYER Group is one of the leading international providers for logistics solutions for liquid goods. In the chemical, gas, foodstuff and petroleum product sectors, HOYER provides the best solution for whatever needs their customers might have.
Allan Davison is the Executive Director for the Gas and Petroleum Logistics business unit within the HOYER Group. He is responsible for all of HOYER's gas and fuels operations throughout Europe.
Davison has been with HOYER for over 20 years, starting out on HOYER's Graduate Development Programme.
"In the last 20 years HOYER has given me the opportunity to develop my skills, to travel and experience many fantastic people and cultures."
HOYER Group's partnership with Total Energies
According to Davison, HOYER's biggest advantage is that the company has a global network and strong regional setup for modular services running along its whole logistics supply chain.
"Our core competence is transport logistics with the highest standards of quality and safety, with Safety and Sustainability being some of the core values of our company," explains Davison.
In the UK, HOYER Group is the industry leader for fuel and bitumen logistics. Bitumen in particular is a demanding, hazardous product, using highly specialised equipment. For its bitumen logistics services, HOYER Group has partnered with Total Energies for nearly15 years.
"One of the key reasons why I believe our partnership has been a success is that we have similar values – with safety and sustainability being absolute priorities," says Davison.
There are two types of sustainable efforts at HOYER, measures the company can do on its own, such as optimisation and efficiency, followed by measures where HOYER needs its customers to support its approach. With Total Energies, HOYER Group has found the ideal partner to support its HVO fuels trial.
In his experience, there are several essential ingredients to a successful partnership.
"An alignment of values, transparency and consistently maintaining an open and honest dialogue with each other, those are the key ingredients to a successful partnership like HOYER and Total Energies," says Davison. "That's what we're able to do."

Sustainability at HOYER
HOYER's HVO trial was a part of its environmental efforts to test sustainable actions in transport logistics.
"There was quite a lot of preparation work required, but we worked through all the challenges and ended up choosing several vehicles for the trial which were dedicated to bitumen for Total Energies," explains Davison. "The vehicles were based in Preston and made round trip deliveries of up to 800km."
The results of the trial have been really positive: HVO replaced fossil-based diesel without any side effects, fuel and AdBlue consumption were very similar and engine performance was the same.
"It's actually expected to work better in winter than diesel," says Davison.
Critically, for every tanker load of HVO, HOYER reduced its calculated emissions by 80 tonnes of CO2, up to 27% less NOX and up to 84% less PM.
HOYER sees sustainability in three forms:
Economic sustainability
"We value long-term partnerships with our customers, where we create value added services and develop our business together," says Davison.
Social sustainability
"Our business depends, more than anything else, on the sustainable careers of our employees and the success of our dedicated partners, who identify with, and work to achieve, the company's vision," explains Davison.
Environmental sustainability
"We have clear carbon reduction targets and plans in place to achieve those targets," continues Davison. "Everything from alternative fuelled vehicles such as HVO, LNG/CNG and Hydrogen, system-based optimisation of route planning and of course modern truck fleets and systems to support eco-friendly and safe driving.
Over the next 12 months, HOYER has some big goals to reach and it's ready to go.
Read the full Total Energies' digital report HERE.