RWE led German green hydrogen research produces hydrogen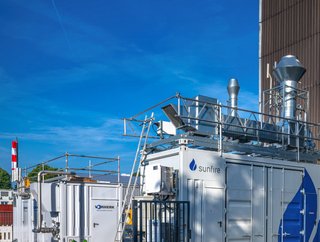 The Sunfire 250-kilowatt electrolyser at the RWE Lingen plant. Credit | RWE
RWE has officially started to produce hydrogen in Lingen — in a few months, our industrial 14 MW pilot electrolyser will too, says Sopna Sury, RWE COO
In Germany, research around the infrastructure required for green hydrogen in public spaces is being conducted.

The project, GET H2 TransHyDE, is being run by RWE with Adlares, Evonik, Meter-Q Solutions, Nowega, OGE, and Rosen, together with the DVGW Research Unit at the Engler-Bunte Institute of the Karlsruhe Institute of Technology and the University of Potsdam.

The nine partners are gathering knowledge on how to transport hydrogen by setting up a test environment in which they are investigating how to measure the quality and quantity of hydrogen, optimising compressor concepts and looking at how hydrogen affects materials.

"With the commissioning of this first electrolyser, RWE has officially started to produce hydrogen in Lingen," celebrates Sopna Sury, COO Hydrogen at RWE Generation.

Sury joined the board of RWE Generation SE in 2021 as Chief Operating Officer Hydrogen, responsible for coordinating and driving the hydrogen activities for RWE, having started her career in management consultancy with McKinsey & Company. She later held various positions at E.ON such as Director Energy Solutions, Director Business Development and Business Affairs for the renewables business and member of the inhouse consulting's management team. At Uniper she was leading the area Energy Services & Infrastructure. As Director Strategy & Regulatory Affairs for RWE Renewables she has been driving strategy development, regulatory affairs and integration management.

Sury has a master's degree in economics and holds a doctorate from the University of Witten/Herdecke.

"These 250 kilowatts of electrolysis capacity for the GET H2 TransHyDE research project are an important first step for us, and it will quickly be followed by others. In a few months, our 14-megawatt pilot electrolyser at the Lingen plant, our first one that will produce hydrogen on an industrial scale, will also go into operation."
Green energy production to boost international relations and reputation
TransHyDE is one of the German hydrogen lead projects funded by the Federal Ministry of Education and Research, receiving US$12.6m to advance the implementation of the National Hydrogen Strategy.

The Lingen project has reached an important milestone — hydrogen was produced for the first time on the site of the RWE gas-fired power plant in Emsland (KEM) using a high-temperature solid oxide electrolyser (SOEC) from renewable energy specialists Sunfire.

"Germany has set itself the goal of becoming the lead market for hydrogen technologies," says Nils Aldag, CEO and co-founder of Sunfire.

Alongside his role at Sunfire, Aldag is a member of the board of Hydrogen Europe and an Appointed Member of the EU Clean Hydrogen Alliance. Previously, he was Vice-Chair of the Renewable Hydrogen Coalition and a member of the board of the eFuel Alliance.

"To achieve this, we also need a strong domestic market where technology providers and customers move forward together. With our partner RWE, we are validating the next generation of electrolysers with high-temperature SOEC electrolysis. In parallel, we are building a pressurised alkaline electrolyser on an industrial scale in Lingen. This is how we are gathering experience and developing standards together."
*********************************************
For more energy insights check out the latest edition of Energy Digital Magazine and be sure to follow us on LinkedIn & Twitter.

You may also be interested in Sustainability Magazine and EV Magazine.
*********************************************
Net Zero LIVE will be hosted live from the QEII Centre, London on the 6th and 7th of March, and streamed globally via our virtual event platform Brella. Net Zero LIVE London will feature four LIVE themes, incorporating Sustainability LIVE, EV LIVE, Scope 3 LIVE, and Energy LIVE to deliver a holistic conference and exhibition experience with opportunities to connect with like-minded peers and actively contribute to crafting a sustainable future. Following Net Zero LIVE, viewers can also sign up for Sustainability LIVE Dubai and Singapore.

Sign up to the The Global Sustainability & ESG Awards 2024, coming to London on the 11th September 2024.
*********************************************
BizClik is a global provider of B2B digital media platforms that cover Executive Communities for CEOs, CFOs, CMOs, Sustainability Leaders, Procurement & Supply Chain Leaders, Technology & AI Leaders, Cyber Leaders, FinTech & InsurTech Leaders as well as covering industries such as Manufacturing, Mining, Energy, EV, Construction, Healthcare + Food & Drink.

BizClik – based in London, Dubai, and New York – offers services such as Content Creation, Advertising & Sponsorship Solutions, Webinars & Events.