Schneider Electric invests £7.2m in the UK's green economy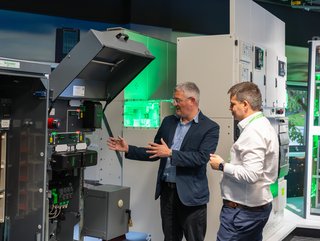 Schneider Electric's Leeds facility. Credit | Schneider Electric
This investment in Leeds reflects our commitment to investing in the UK's green economy says Kelly Becker, Zone President UK&I at Schneider Electric
Recognised as the most sustainable company in the world, Schneider Electric is certainly a powerhouse that's leading the way in sustainability strategy and action.
The company states that its purpose is to empower all to make the most of energy and resources, bridging progress and sustainability for all — it refers to this as Life Is On.
Through integrating world-leading process and energy technologies, end-point to cloud connecting products, controls, software and services, across the entire lifecycle, enabling integrated company management, for homes, buildings, data centres, infrastructure and industries, Schneider Electric is driving digital transformation.
UK expansion to boost decarbonisation and green economy
Schneider Electric is investing £7.2m into its Leeds facility and creating 110 new jobs over the next five years.
The UK manufacturing base is being upgraded to champion sustainable development, meet growth in demand and line up with Schneider Electric's growth trajectory due to rising demand from the energy transition and the electric vehicle (EV) market.
"Our continued growth and investment are set in the context of a huge opportunity to drive decarbonisation, boost infrastructure to meet the demands of EV charging, and design, build, operate and maintain our buildings in the face of the energy efficiency challenge," says Kelly Becker, Zone President UK&I at Schneider Electric.
This significant investment, which is being carried out with cooperation and support from Leeds City Council, reinforces Schneider Electric's long-term commitment to supporting the UK's move to decarbonisation and represents a boost to the local green economy.
"It is heartening to see our robust manufacturing base continuing to be recognised and fuelled by rising demand in emerging markets such as electric vehicles," comments James Lewis, Leader of Leeds City Council.
"This new investment not only helps to supercharge the local economy but also speaks volumes about our region's expertise and the skills and competency of our workforce and what can be achieved through businesses and the council working hand in hand."
More than a tenth of the company's workforce in the UK is based at the Leeds side, which specialises in designing and manufacturing medium and low-voltage switchgear solutions to protect and distribute electricity in public, commercial and industrial installations. The new investment will aim to radically enhance the Leeds facility's efficiency to support growing demand for these solutions.
A key feature of the expanding solutions is its portfolio of green and digital switchgear, which replaces the greenhouse gas that is traditionally used in electrical equipment for insulation, with pure air to reduce environmental impact and optimise maintenance and operations.
The upgrade will feature a 3,380 sqm extension to an existing assembly and test hall, and a centralised Factory Acceptance Testing (FAT) area.
"This multi-million pound investment in Leeds reflects our commitment to investing in the UK's burgeoning green economy," Becker concludes.
"I'm proud that through this project, we plan to create local jobs in Yorkshire, which has been part of our operational presence in the UK for years."
*********************************************
For more energy insights check out the latest edition of Energy Digital Magazine and be sure to follow us on LinkedIn & Twitter.
You may also be interested in Sustainability Magazine and EV Magazine.
*********************************************
BizClik is a global provider of B2B digital media platforms that cover Executive Communities for CEOs, CFOs, CMOs, Sustainability Leaders, Procurement & Supply Chain Leaders, Technology & AI Leaders, Cyber Leaders, FinTech & InsurTech Leaders as well as covering industries such as Manufacturing, Mining, Energy, EV, Construction, Healthcare + Food & Drink.
BizClik – based in London, Dubai, and New York – offers services such as Content Creation, Advertising & Sponsorship Solutions, Webinars & Events.