Toyota harnesses sustainable energy from liquid hydrogen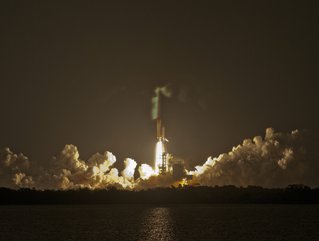 Rocket launch. Credit | Getty
Toyota's new technology uses zero-emission liquid hydrogen for the first time as alternative sustainable fuel for its innovative H2 Corolla racecar
As attention is turning to alternative, renewable fuels, the use of hydrogen — both in state and application — is being explored.
Hydrogen is used in a variety of industries as a clean energy source as, when burned, hydrogen produces no greenhouse gases — only water vapour — making it an incredibly favourable source of fuel when compared to oil or coal.
Liquid hydrogen has been prioritised as a fuel by Nasa since the 1950's, thanks to its extreme power and light weight.
Toyota has developed the first racing car fuelled by liquid hydrogen, expanding on the gaseous hydrogen fuelled H2 Corolla. Driven for the first time in November 2022, the car manufacturer employed innovative technologies to use the liquid fuel that is currently mostly found in rockets.
Benefits and restrictions of liquid hydrogen fuel
Alongside the lack of greenhouse gases produced when burning hydrogen, the fuel is attractive for multiple reasons:
Weight — it has the lowest molecular weight of any known substance
Power — liquid hydrogen burns with extreme intensity at 5,500°F
Efficiency — it yields the highest specific impulse, or efficiency in relation to the amount of propellant consumed, of any known rocket propellant when combined with an oxidiser (often liquid oxygen).
Range — liquid hydrogen's energy density (energy per unit volume) is 1.7 times higher than gaseous hydrogen, allowing Toyota's car to travel further.
Pressurisation — gaseous hydrogen requires high pressurisation which its liquid counterpart does not — the volume ratio of liquid to gas is approximately 1:850. Vehicles using liquid hydrogen have more freedom in tank design and possibly more rear space. This also reduces compression equipment requirements.
Refuelling — liquid hydrogen refuelling can take place in the same space as gasoline-powered cars.
However Toyota is also experiencing drawbacks in utilising the fuel:
Liquid hydrogen must be kept at -253°C, the temperature of liquefaction.
Innovative manufacturing requires trusted partnerships — companies had to take a risk in Toyota's new racecar technology.
Liquid hydrogen: Is it the future of renewable energy for travel?
"We undertook this effort to help create a hydrogen society," said Akio Toyoda, Chairman of Toyota.
"As we've said from the outset, the future will be shaped by acting with purpose and passion. Even while the engineers were saying it couldn't be done, they've managed to develop the technology in an agile way while remaining competitive and keeping an eye on what's going on around us."
"Carbon neutrality is the challenge of our time — we're going to keep pushing the door open to a new future," Toyoda said.
Looking to the future, Toyota is working with leading universities to develop liquid hydrogen technologies and explore the possibilities of this alternative fuel.
Joint research into superconducting motor technology for liquid hydrogen pumps for automotive use is being worked on by Toyota, Kyoto University, University of Tokyo and Waseda University, with Wasda University also working on centrifugal pump technology for liquid hydrogen for automotive use.
"As a driver myself, I want people to see hydrogen not as a danger but as our future," Toyoda says.
******
For more energy insights check out the latest edition of Energy Digital Magazine and be sure to follow us on LinkedIn & Twitter.
You may also be interested in Sustainability Magazine and EV Magazine.
Please also check out our upcoming event - Sustainability LIVE in London on September 6-7 2023.
BizClik is a global provider of B2B digital media platforms that cover Executive Communities for CEOs, CFOs, CMOs, Sustainability Leaders, Procurement & Supply Chain Leaders, Technology & AI Leaders, Cyber Leaders, FinTech & InsurTech Leaders as well as covering industries such as Manufacturing, Mining, Energy, EV, Construction, Healthcare + Food & Drink.
BizClik – based in London, Dubai, and New York – offers services such as Content Creation, Advertising & Sponsorship Solutions, Webinars & Events.