Sunlight Group records €32mn earnings in 2021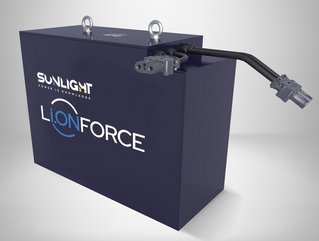 Sunlight Group is investing €560mn to expand production capacity in lead-acid and lithium-ion batteries and energy storage systems
Sunlight Group Energy Storage Systems recorded an adjusted EBITDA of €32mn in 2021, up 52%, despite a steep rise in costs for raw materials and electric power in the first half of the year which impacted profitability.
The group is implementing a €560mn to expand its production capacity in lead-acid and lithium-ion batteries and energy storage systems over the next five years, as well as its supply chain and sales network.
Two new products were launched in 2021: the semi-traction lithium-ion battery, Sunlight ElectroLiFe, and the Battery Management System for lead-acid energy storage systems, Sunlight KnoWi. Its annual production exceeded 3.25mn motive power cells and 150,000 energy storage cells for renewable energy and its turnover rose 54% to €272mn.
CEO Lampros Bisalas said the results demonstrate its focus to become 'a global leader' in industrial vehicles and energy storage systems, implementing an investment strategy which targets short and long-term challenges and opportunities.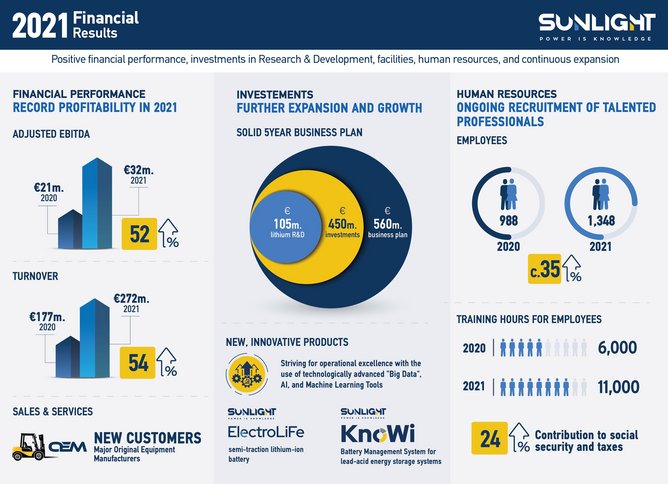 The Sunlight Li.ON ESS range, comprising low- and high-voltage products, has been promoted at ees Europe, Europe's largest Exhibition for reserve batteries and energy storage systems, in Munich this week (May 11-13).
Recent activities include the acquisition of Technoform, a Kilkis-based company that designs and manufactures state-of the-art molds and components, and PBM S.R.L., an established global leader in the production of battery chargers and industrial electronic devices.
Other opportunities include the €105mn European Battery Innovation project, recognised as an important project of common European interest. EuBatIn is co-funded by the EU and focuses on developing innovative lithium battery technologies for the energy storage sector and off-road industrial mobility.
Bisalas said it has been "greatly focusing" on corporate governance, adding international experience to its BoD and Executive Committee, and continues to invest in people (spending €3mn in benefits and bonuses), infrastructure, systems and equipment.
R&D is another key area, having created a specialist team of more than 120 scientists and engineers.