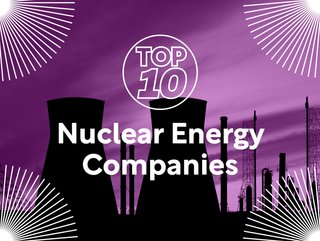 Top 10 Nuclear Energy Companies
The top nuclear energy companies provide recyclable energy all around the globe, and include energy innovators NextEra Energy, Duke Energy and EDF
As renewable energy sources continue to see global growth in response to the climate crisis, nuclear power continues to be a relevant source of energy. Although not renewable, nuclear energy is still recyclable and produces zero greenhouse gases, serving as the second-largest source of low-carbon energy in the world behind hydropower.
In 2022, as reported by the IAES, over 393.8 GW(e) of operational nuclear power capacity was available through 438 reactors across 32 countries. Overall, nuclear power capacity growth has been steady over the past decade, with a 20.3 GW(e) increase between 2012 and 2022.
Energy Digital has ranked some of the largest companies in the world generating electricity using nuclear power, ordering them by market capitalisation.
Market Capitalisation: US$18.9bn
CEO: Sergey Kirienko
Rosatom is the Russian Federation national nuclear corporation, bringing together around 400 nuclear companies and R&D institutions that operate in the civilian and defence sectors. With 70 years' expertise in the nuclear field, the company is a global leader in technologies and offers cutting-edge industry solutions on a global scale to provide comprehensive nuclear services that range from uranium enrichment to nuclear waste treatment.
Market Capitalisation: US$21.12bn
CEO: Brian X. Tierney
FirstEnergy is a forward-thinking electric utility centred on integrity, powered by a diverse team of employees committed to making customers' lives brighter, the environment better and communities stronger.
Energy Harbor Nuclear Corp is a subsidiary of the company, which operates FirstEnergy Corp.'s nuclear-generating facilities. The company supplies 33 terawatt hours of clean, carbon-free energy in the United States, making it the second-largest non-regulated nuclear fleet in the United States.
Market Capitalisation: US$30.21bn
CEO: Ralph A. LaRossa
Public Service Enterprise Group (PSEG) Incorporated was formed in 1903 by combining more than 400 gas, electric and transportation companies in New Jersey. PSEG's generation fleet includes coal, natural gas, oil, and solar, including three nuclear units in South Jersey. In addition to its plants in South Jersey, PSEG Nuclear also holds a small stake in two nuclear power stations in Pennsylvania.
Market Capitalisation: US$39.2bn
CEO: Robert Blue​​​​​​​

Based in Richmond, Virginia, Dominion Energy is dedicated to one simple and vital mission — providing reliable, affordable, and increasingly clean energy to power the every day.
The energy company with a production capacity of over 30 GW of electricity and an electric transmission distribution network of over 90,000 miles. The company's nuclear facilities include Millstone Power Station, North Anna Power Station, Surry Power Station, and VC Summer Power Station. In 2021, these facilities produced over 52,700,000 MWh of electricity, which avoided 40.5 million tons of carbon dioxide emissions.
Market Capitalisation: US$39.57bn
CEO: Calvin Butler
American energy company Exelon Corporation serves an estimated 10 million customers, making it one of the largest utility companies in the US. The company's nuclear division boasts the largest US fleet of nuclear plants consisting of 21 reactors at 12 facilities in New York, Maryland, Illinois, and Pennsylvania. With a capacity of over 17,800 MW, the nuclear division of Exelon Corporation is an essential aspect of the stability of the US electrical grid as it can provide a continuous and uninterrupted supply of electricity for lengthy periods.
Market Capitalisation: US$40.4bn
CEO: Joseph Dominguez
Headquartered in Baltimore, Maryland, United States, Constellation Energy Corporation offers sustainable solutions and renewable energy to a variety of wholesale customers, including residences, businesses, government agencies, and community aggregators (such as municipalities, cooperatives, etc.). Constellation Energy Corporation boasts 21 nuclear units, and the electricity generated from it amounts to half the nation's carbon-free energy and 20% of the nation's total electricity.
Market Capitalisation: US$40.46bn
CEO: Catherine MacGregor
French multinational electric utility company Engie is one of the largest utility companies in Europe and serves customers in over 70 countries around the world. Electrabel, a subsidiary of Engie, is among the pioneers of nuclear energy in Belgium, covering almost 50% of total electricity consumption in Belgium through its four nuclear reactors in Doel and three in Tihange, providing a combined capacity of 6000 MW.
CEO Catherine MacGregor has been recognised by Energy Digital as a top energy company CEO.
Market Capitalisation: US$56.09bn
CEO: Simone Rossi
Founded in 1946, Electricité de France (EDF) is a French electric utility company engaged in all manner of energy services including generation, transmission, distribution, supply, and trading. The company's generation fleet includes a mix of fossil fuel, hydroelectric, and renewable energy sources including 56 nuclear reactors in France, spread over 18 locations.
Recognised by Energy Digital as one of the top thought leaders in energy, Simone Rossi has been at EDF since 2011, taking the reins as CEO in 2017.
Market Capitalisation: US$69.52bn
CEO: Lynn Good
Duke Energy Corporation is one of the largest utility companies in the United States and serves customers in six states: North Carolina, South Carolina, Florida, Indiana, Kentucky, and Ohio.
It boasts one of the lowest production costs in the country thanks to its nuclear offering. The company's 11 nuclear units at six sites in South Carolina and North Carolina have a capacity of about 10,700 MW, providing electricity to half of its Carolina customer base.
Lynn Good has been CEO of Duke Energy since 2013, and has been recognised by Energy Digital as one of the top CEOs of energy companies and a top woman in energy.
Market Capitalisation: US$118.14bn
CEO: John W. Ketchum
The world's largest utility company, NextEra Energy, is headquartered in Florida, US, where it has been generating power since 1925. The company generates more wind and solar energy than any other company in the world, and is recognised among the top 25 in the world for innovation by Fortune magazine.
Nextera Energy has nuclear plants in Florida, New Hampshire and Wisconsin. These seven operating units avoid more than 24 million tons of carbon dioxide emissions each year, which is equivalent to removing more than almost 5 million cars from the road annually. NextEra Energy continues to invest in its nuclear fleet to help ensure that the plants are among the best in the industry and can efficiently and reliably deliver power that customers can count on, playing a key role in safely providing reliable and emissions-free energy to millions of Americans.
NextEra CEO John W. Ketchum has been recognised by Energy Digital as one of the top CEOs of energy companies.
"We are building on our decades of innovation and investments in low-cost renewable energy to decarbonise our company while keeping bills affordable for our customers," says Ketchum.
"Attaining Real Zero will be one of those achievements that provides lasting value to our customers and the communities where we do business."

*********************************************
For more energy insights check out the latest edition of Energy Digital Magazine and be sure to follow us on LinkedIn & Twitter.
You may also be interested in Sustainability Magazine and EV Magazine.
*********************************************
Net Zero LIVE will be hosted live from the QEII Centre, London on the 6th and 7th of March, and streamed globally via our virtual event platform Brella. Net Zero LIVE London will feature four LIVE themes, incorporating Sustainability LIVE, EV LIVE, Scope 3 LIVE, and Energy LIVE to deliver a holistic conference and exhibition experience with opportunities to connect with like-minded peers and actively contribute to crafting a sustainable future. Following Net Zero LIVE, viewers can also sign up for Sustainability LIVE Dubai and Singapore.
Sign up to the The Global Sustainability & ESG Awards 2024, coming to London on the 11th September 2024.
*********************************************
BizClik is a global provider of B2B digital media platforms that cover Executive Communities for CEOs, CFOs, CMOs, Sustainability Leaders, Procurement & Supply Chain Leaders, Technology & AI Leaders, Cyber Leaders, FinTech & InsurTech Leaders as well as covering industries such as Manufacturing, Mining, Energy, EV, Construction, Healthcare + Food & Drink.
BizClik – based in London, Dubai, and New York – offers services such as Content Creation, Advertising & Sponsorship Solutions, Webinars & Events.