Octopus Energy develops affordable renewable energy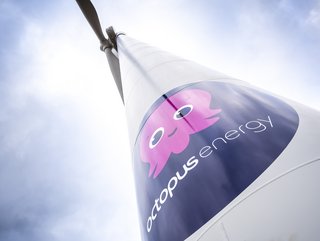 Octopus Energy wind turbine. Credit | Octopus Energy
CEO Greg Jackson outlines how Octopus Energy uses technology & financial incentives to reduce energy costs, encouraging customers to adopt renewable energy
UK-based Octopus Energy was founded by Greg Jackson with the backing of Octopus Group with the vision of using technology to make energy fair, clean, and simple for all.
The company powers over five million UK homes and businesses, making it the country's fourth biggest supplier. Voted the UK's Best Energy Supplier 2023 by Which, Octopus Energy holds customer experience in high regard, with CEO Greg Jackson forfeiting his sizeable salary in favour of minimum wage to ensure that energy prices remained as manageable as possible for users.
That isn't to say that the company isn't sky rocketing however, with ever-expanding operations in France, Germany, Italy, Spain, Australia, Japan, New Zealand and the United States alongside its popular UK base.
Recent deals for the company include three French wind farms, around US$3.5bn of investment in renewable energy and technology across the Asia and the Pacific (APAC) region and almost US$90m investment pledge with Legal and General to ramp up domestic heat pump production.
"Bringing down energy costs is one of the reasons I started the business," says Greg Jackson, Founder and CEO of Octopus Energy.
"It's demoralising that we can't keep bills lower in the short term when we need it most, but we have done a tremendous amount up to now."
Octopus Energy acquired fellow UK energy company Bulb — and its 1.5 million customers and 650 staff — in December 2022 following the company's descent into special administration.
"We've raised 16 times more investment than Bulb did," Jackson explains how Octopus Energy is so different to Bulb.
"We have a technology licensing business with big customers like E.ON and EDF, and we've invested in generation and a heat pump centre. We're nothing like Bulb."
Financial incentives to use wind power
Octopus Energy's Fan Club tariff offers the benefit of local renewable energy production in real-time.
Customers save 20% whenever their local turbine is spinning and get a 50% discount when the wind is really blowing (specific speed is area dependent, but usually between 8m/s and 12m/s). Rates are available in real time, and wind forecasts are available.
Octopus is working to extend the scheme to include solar energy, and aims to supply around 2.5 million households with green electricity through Fan Club schemes by 2030.
"The Fan Club is the first step in a huge plan for Octopus owning its very own generation and offering local wind tariffs across the country. It means we can begin producing the clean, green power we provide to customers ourselves and incentivise customers to use energy when it's the absolute greenest," says Zoisa North-Bond, CEO of Octopus Energy Generation.
"By matching this generation with our proprietary agile technology, we're unlocking exciting opportunities for the cheapest electrons to be the greenest."
******
For more energy insights check out the latest edition of Energy Digital Magazine and be sure to follow us on LinkedIn & Twitter.
You may also be interested in Sustainability Magazine and EV Magazine.
Please also check out our upcoming event - Sustainability LIVE in London on September 6-7 2023.
BizClik is a global provider of B2B digital media platforms that cover Executive Communities for CEOs, CFOs, CMOs, Sustainability Leaders, Procurement & Supply Chain Leaders, Technology & AI Leaders, Cyber Leaders, FinTech & InsurTech Leaders as well as covering industries such as Manufacturing, Mining, Energy, EV, Construction, Healthcare + Food & Drink.
BizClik – based in London, Dubai, and New York – offers services such as Content Creation, Advertising & Sponsorship Solutions, Webinars & Events.