Sustainability LIVE London 2023 agenda announcement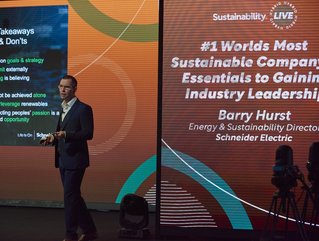 Barry Hurst, Energy and Sustainability Director at Schneider Electric presenting at Sustainability LIVE. Credit | BizClik Media
The agenda for Sustainability LIVE London 2023 covers Sustainability Strategies, Diversity & Inclusion, ESG, Net Zero, Energy, Investing & more
Sustainability LIVE London, the leading ESG, net zero, and sustainability event in London, is back for its third hybrid event.
Sustainability LIVE London 2023 will provide two days of unmissable content on September 6th and 7th, 2023, at the Business Design Centre (BDC).
A must-attend for Energy leaders, this two-day conference will gather over 2,000 in-person participants and over 5,000 joining virtually, uniting influential figures from diverse industries to exchange groundbreaking ideas, proven solutions, and actionable insights for a sustainable future.
Green energy, sustainable transport, net zero and more: The first day of unmissable content
Throughout the two day event there will be panels, fireside chats and keynote presentations from CEOs, CSOs and other industry leaders from companies including Meta, Microsoft, National Grid, Supply Pilot, eBay, Holcim, Suez, AWS, EY, Pod Point Ltd, Philip Morris International, London Stock Exchange Group, and many more.
There are networking breaks scattered throughout the day to connect with likeminded industry peers.
Panels throughout the event include:
The Green Energy Forum, The OCP Sustainability Discussion
The Sustainable Transport Forum: EV & Mobility
The Net Zero & Planet Forum
The Supply Chain Sustainability Forum
The Women In Sustainability Forum
The Future of Generative AI Forum
The Circular Economy Forum
The DE&I Forum
The ESG Forum
The Sustainable & Ethical Investment Forum
How to strengthen climate resilience in your supply chain
The Fireside Chats cover:
Microsoft's Sustainability Strategy, with keynote speaker Sean Jones, Microsoft's Chief Sustainability Officer
The Route to B-Certified
CSO Strategies
How SMEs Can Accelerate their Journey to Net Zero
Navigating the Path to Sustainability: Fireside Chat with Suez's Sustainable Journey with Adam Read, Suez's Chief Sustainability and External Affairs Officer
Supply Chain Sustainability
Climate Change
Design for Circularity
Jennifer Motles, Chief Sustainability Officer at Philip Morris International
The International Olympic Committee with Marie Sallois, The International Olympic Committee's Director of Corporate Sustainability
The Sustainable Finance Fireside with Jane Goodland, London Stock Exchange Group (LSEG)'s Group Head of Sustainability
The ESG Fireside
On day one, Meta's Ecosystem and Partnerships Lead, Dharmesh Jani is delivering one of the Keynote Presentations, sharing Meta's Sustainability Journey. James Butcher, CEO of Supply Pilot's Keynote Presentation is on Sustainability Strategy in the Supply Chain, whilst Magali Anderson, Holcim's Chief Sustainability and Innovation Officer will share her company's Net Zero Journey. We will also hear from Rhian Kelly, Chief Sustainability Officer National Grid and gain insights into eBay's strategy.
Day two features Keynote Presentations including Accelerating Sustainability & Decarbonization through the AWS Cloud with Tobias Kederer, EMEA Head of Sustainability & Migrations/Modernization at AWS. Canon's Circular Economy Strategy talk is being delivered by Peter Bragg, Canon's EMEA Sustainability & Government Affairs Director and James McKemey, Head of Policy and Public Affairs at Pod Point Ltd is presenting on Pod Point Mobility.
Have a further look at the interactive agenda here.
So, clear your calendar for September 6th and 7th, and register for your FREE ticket to ensure you don't miss out on the world's biggest and best sustainability event.