Siemens Energy focuses on a decarbonised future for energy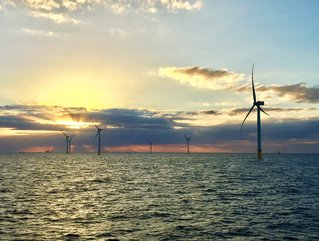 Offshore wind farm. Credit | Siemens Energy
The energy transition provides the opportunity for new technologies & increased future sustainability, believes Siemens Energy's Anne-Laure de Chammard
Siemens Energy is working to empower its customers to meet the growing global demand for energy while transitioning to a more sustainable world, offering products, solutions, and services across the entire energy value chain.
Originally operating as part of technology giant Siemens, Siemens Energy split from the parent company in 2020, with Siemens retaining a quarter of Siemens Energy.
Siemens Energy is using innovative technologies, extensive energy experience and ambitious strategy on its journey to decarbonising global energy systems, focusing on ESG, innovation and transformation.
Siemens Energy's approach looks at gas services, grid infrastructure and technology, transformation of industry and renewable energy.
Gas Services
Siemens Energy enhances conventional and renewable power supply, supporting low-emission power generation through technology, solutions, service and decarbonisation.
The company offers a range of gas energy options, including gas turbines which co-fire up to 75% hydrogen.
Grid Technology
As demand for renewable energy grows, the infrastructure must too.
With the technology surrounding green energy generation continuously progressing, the infrastructure supporting it struggles to keep up which creates the need for both upgraded grid technology and input of infrastructure.
According to IRENA, the shift from the regular grid to a renewables grid will demand at least a threefold increase in energy storage capacity by 2030.
Siemens Energy have five focus areas to support development:
Accelerate renewables. This will vary by region; the Asia-Pacific region will have to increase its use by up to ten times by 2050, compared with a three- or four-fold increase in Europe.
Strengthen the grid. Developing more robust grids to not only serve the needs of an individual country, but which are capable of meeting demand within and between regions.
Expand infrastructure. Using the existing infrastructure as a bridge towards the new energy future — even if this means using conventional technologies for a period.
Improve energy efficiency. Whilst efficient generation is essential, acknowledging the huge potential for efficiency gains in consumption.
Secure supply chain and resources. More materials and minerals are needed for the energy transition; for example, an onshore wind plant requires nine times more mineral resources than a gas-fired plant.
Transformation of Industry
Global decarbonisation requires a new energy system, and Siemens Energy is working to enable decarbonisation of the industrial sector and the transition to sustainable processes, building on a strong industrial customer base, a global network, diverse technologies and integrated execution capabilities.
"The energy transition has given organisations opportunities across the industrial supply chain to leverage new technologies and drive towards a more sustainable and viable future," says Anne-Laure de Chammard, Member of the Executive Board & Executive Vice President Transformation of Industry, Siemens Energy.
"Siemens Energy is uniquely qualified to help our customers achieve these goals."
Siemens Gamesa Renewable Energy
Renewable wind power specialist Siemens Gamesa is currently finalising full integration into Siemens Energy.
The company provides wind energy technologies and services, operating as one of the world's leading suppliers for on and offshore solutions. Its thousands of turbines generate over 130 GW of wind power all over the world — enough clean energy to power more than 110 million households annually.
"In the new era of a more sustainable, affordable, and reliable power generation, we're determined to remain the partner of choice for our customers," says Karim Amin, Member of the Executive Board & Executive Vice President Gas Services, Siemens Energy
"With our technology, solutions, services, and capabilities, we strive to set new benchmarks for decarbonization and the transformation of the energy system."
******
For more energy insights check out the latest edition of Energy Digital Magazine and be sure to follow us on LinkedIn & Twitter.
You may also be interested in Sustainability Magazine and EV Magazine.
Please also check out our upcoming event - Sustainability LIVE in London on September 6-7 2023.
BizClik is a global provider of B2B digital media platforms that cover Executive Communities for CEOs, CFOs, CMOs, Sustainability Leaders, Procurement & Supply Chain Leaders, Technology & AI Leaders, Cyber Leaders, FinTech & InsurTech Leaders as well as covering industries such as Manufacturing, Mining, Energy, EV, Construction, Healthcare + Food & Drink.
BizClik – based in London, Dubai, and New York – offers services such as Content Creation, Advertising & Sponsorship Solutions, Webinars & Events.