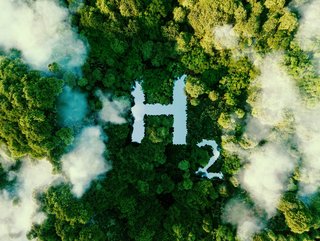 Global green hydrogen production capacity reached over 109,000 tonnes per annum (ktpa) in 2022, representing a 44% increase over 2021. Credit | Getty
Energy Digital takes a look at the top 10 companies making waves in the industry as we continue to see growth in hydrogen demand and generation
As clean energy becomes increasingly prevalent in the journey to net zero and achieving the goals of the Paris Climate Agreement, the spotlight is being turned to hydrogen as a clean energy source.
When burned, hydrogen produces no greenhouse gases — only water vapour — making it an incredibly favourable source of fuel when compared to oil or coal. However, it isn't as easily extractable as natural gas, and sourcing hydrogen often emits greenhouse gases.
Companies internationally are working to produce hydrogen without the carbon output, and in quantities large enough to serve global energy needs to allow us to start relying on it.
According to GlobalData, global green hydrogen production capacity reached over 109,000 tonnes per annum (ktpa) in 2022, representing a 44% increase over 2021.
Goldman Sachs believes clean hydrogen can develop into a major global market, resulting in a 15% cut in GHG emissions impacting energy supply, and accounting for up to 30% of global hydrogen volumes crossing borders.
Our picks for top hydrogen companies are pioneers in the field, developing new technologies, producing hydrogen at the largest, most sustainable quantities and advocating for hydrogen-forward global legislation.
AMEA Power is one of the fastest growing renewable energy companies in the APAC region, with a clean energy pipeline of over 6GW across 20 countries.
The Dubai-based developer, owner and operator of renewable energy projects has announced that it has signed a Framework Agreement with the Government of Egypt to develop a 10,000 MW green hydrogen project, supporting the long-term vision of Egypt as it aims to become a hub for green hydrogen production.
Linde is one of the world's leading suppliers of PEM electrolyzer technologies, creating end-to-end, integrated green H2 solutions and generating grey, blue and green hydrogen.
"Grey and blue hydrogen are important stepping stones on the path to green hydrogen," Linde notes. "They will allow for the necessary frameworks and infrastructures to be developed while green hydrogen production reaches the necessary scale."
First Hydrogen is targeting emissions through green hydrogen, removing adoption barriers for zero emission fleets with its fully integrated, green hydrogen centric solution.
The company's zero emission vehicle leverages the potential of hydrogen and fuel cell technology with modular EV capability — it can refuel in less than 10 minutes and has a range of 600 km to 1,000 km.
First Hydrogen is also working on plans to provide customers with a 'Hydrogen-as-a-Service' model, consisting of clean green hydrogen fuel, technologically advanced refuelling stations, and zero-emission commercial vehicles to help accelerate the creation of zero-emission ecosystem solutions.
Based in France, Lhyfe is a European group dedicated to the energy transition, producer and supplier of green and renewable hydrogen.
"Our team has designed this first floating green hydrogen production site. We are extremely proud to be the first in the world to produce hydrogen at sea," shares Matthieu Guesné, Founder and CEO of Lhyfe.
"This has been our wish since the launch of the company and we continue to move very quickly offshore, which for us represents a tremendous development opportunity for mass producing hydrogen and decarbonising industry and transport."
Siemens Energy has developed Silyzer, a new technology to generate green hydrogen efficiently from water and renewable energy Proton Exchange Membrane (PEM) electrolysis. It produces between 100 and 2,000 kg per hour, and consumes 10 litres of water per kg of hydrogen.
In 2023, production of electrolysis stacks will begin at Siemens multi-gigawatt electrolyzer facility in Berlin and ramp up to an annual production capacity of three gigawatts by 2025. Siemens' green hydrogen plant is one of the largest green hydrogen generation plants in Germany and is a key part of the country's clean energy future.
BP aims to be a net-zero company by 2050 or earlier, with hydrogen at the core of its strategy. By 2030, the company aims to produce between 0.5 and 0.7 million tonnes per annum of primarily green hydrogen, while selectively pursuing blue hydrogen opportunities.
It is currently working on H2Teesside, one of the UK's largest blue hydrogen production facilities, and HyGreen Teesside, a large-scale green hydrogen production facility project, which could deliver 15% of the UK's 2030 target for low-carbon hydrogen production.
Plug Power is the leader in building end-to-end green hydrogen ecosystem. The company produces carbon-free green hydrogen using renewable electricity and water, and created the first commercially viable market for hydrogen fuel cell technology.
Using electric powertrain technologies to power vehicles and fleets, it has deployed 60,000 fuel cell systems, and it expects to produce 2,000 tonnes of green hydrogen per day by 2030.
The company has partnerships with major corporations such as Amazon, Walmart, and Home Depot, and its fuel cell technology is used in more than 40,000 vehicles worldwide.
Industrial gas giant Air Products is a global leader in liquefied natural gas (LNG) processing technology and equipment, one of the world's largest suppliers of merchant hydrogen and a leader in hydrogen fuel infrastructure. It has over 100 hydrogen plants with the capacity to produce seven million kilograms of the fuel each day.
The company is working with Associated British Ports (ABP) to decarbonise hard-to-abate sectors such as transport and industry through the first large-scale, green hydrogen production facility in the UK, eliminating up to 580,000 tonnes of greenhouse gas emissions each year, the equivalent of taking 20,000 diesel HGVs off UK roads.
Other projects include building the first large-scale, public liquid hydrogen refuelling station for trucks in Europe, and partnering with Engie on a traceable green energy system. When completed in 2025, its US$7bn carbon-free hydrogen joint venture in Saudi Arabia will use renewable energy to produce 650 tonnes of energy per day.
1. Neom Green Hydrogen Company (NGHC)
Groundbreaking new net-zero development NEOM is located in Saudi Arabia, and aims to redefine society.
Neom Green Hydrogen Company (NGHC) is building the world's largest plant to produce green hydrogen at scale. From 2026, the mega-plant will produce up to 600 tonnes per day of carbon free hydrogen in the form of green ammonia as a cost-effective solution for transportation globally.
In early 2023, the company secured a total investment value of US$8.4bn to revolutionise the production of green hydrogen.
"This substantial financial backing from the investment community shows the unmatched potential of NGHC's green hydrogen project," says Nadhmi Al-Nasr, Chairman, NEOM Green Hydrogen Company, and CEO of NEOM.
"At scale, this project is the first-of-its-kind internationally, leading the world in the hydrogen revolution. Harnessing the energy of NEOM's abundant natural resources, NGHC's project will pave the way for the large-scale adoption of green hydrogen, while driving Saudi Vision 2030's sustainable development goals."
******
For more energy insights check out the latest edition of Energy Digital Magazine and be sure to follow us on LinkedIn & Twitter.
You may also be interested in Sustainability Magazine and EV Magazine.
Please also check out our upcoming event - Sustainability LIVE in London on September 6-7 2023.
BizClik is a global provider of B2B digital media platforms that cover Executive Communities for CEOs, CFOs, CMOs, Sustainability Leaders, Procurement & Supply Chain Leaders, Technology & AI Leaders, Cyber Leaders, FinTech & InsurTech Leaders as well as covering industries such as Manufacturing, Mining, Energy, EV, Construction, Healthcare + Food & Drink.
BizClik – based in London, Dubai, and New York – offers services such as Content Creation, Advertising & Sponsorship Solutions, Webinars & Events.