Chevron's hydrogen investment and green energy endeavours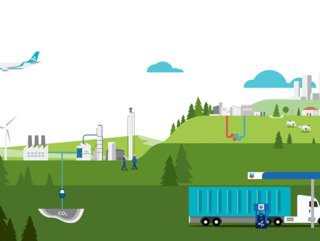 Chevron New Energies is the arm of the global energy leader with a focus on green solutions
President of Chevron New Energies Jeff Gustavson comments on its hydrogen input and further renewable energy exploits to come from the leading energy firm
In a move that underscores Big Oil's increasing commitment to clean energy, Chevron New Energies revealed recently its purchase of a 78% stake in the Advanced Clean Energy Storage (ACES) project in Utah from Houston-based private equity firm Haddington Ventures. The financial details of the acquisition remain undisclosed.
The Utah-based project is centred around a novel energy storage concept: using two vast salt caverns to store hydrogen derived from renewable energy sources. This stored hydrogen can then be relayed to a dedicated turbine to produce electricity precisely when it's most in demand.
The initial potential of this initiative is impressive. The site is set to furnish over 300 gigawatt-hours of clean energy to the US West, offering a counterbalance during periods when wind or solar outputs fall short. ACES, which has already secured a $504 million loan from the Department of Energy, is on track to be operational by mid-2025.
Hydrogen is "plentiful, it's versatile, it's a low- or no-carbon energy carrier, and it can be produced from multiple sources," says Jeff Gustavson, President of Chevron New Energies.
"Hydrogen can be stored in large amounts, which is exactly what this project will be able to do, and it can be scaled."
Following the trend of ESG and global sustainability
This development emerged two years after the environmental, social and governance (ESG) investment wave—a period when major oil companies started branching out, pursuing projects to curtail carbon emissions beyond their standard operations. A case in point: earlier this year, Exxon Mobil acquired the largest network of CO2 pipelines in the US. Concurrently, Occidental Petroleum is underway with constructing the largest facility designed to extract carbon dioxide directly from the air.
Chevron's broader strategy involves channelling US$10bn into low-carbon ventures over the next eight years. This entails both a decrease in its intrinsic emissions and a boost in clean energy production. Austin Knight, a vice president at Chevron New Energies, emphasised that the ACES initiative is not just another investment but a "growth platform for the future". The project's focus on hydrogen could revolutionise power generation, heavy-duty transportation, and potentially offer a sustainable alternative to fossil-fuel-based hydrogen in Chevron's refineries.
In collaboration on this venture is Mitsubishi Power Americas, a partnership that will see the Japanese conglomerate construct the turbine converting stored hydrogen into electricity. This energy could potentially power areas as distant as California, replacing an outgoing 1,800-megawatt coal power plant with an innovative 840-megawatt hybrid combined cycle gas turbine.
The broader picture reveals hydrogen as a promising tool for decarbonisation. This is due to its unique production process: hydrogen can be extracted from water using renewable energy, emitting zero greenhouse gases. When utilised in turbines, hydrogen combustion releases no carbon dioxide. However, it's worth noting that the majority of today's hydrogen is derived from natural gas, a process that does release carbon. Consequently, some environmental advocates remain wary, perceiving hydrogen as a potential loophole for Big Oil to perpetuate fossil fuel dependency.
Insight gained from Chevron's sustainable energy endeavours
The recent moves by established oil majors like Chevron signal more than just a business decision; they reflect a broader transformation in the global energy landscape. As concerns over climate change intensify, pressures mount from investors, consumers, and regulatory bodies for traditional energy companies to pivot towards more sustainable energy sources. Here's a deeper dive into what this transition entails and its implications:
Balancing profit and sustainability: While Big Oil's foray into clean energy ventures is commendable, the transition is fraught with challenges. Traditional oil companies have shareholders who expect consistent dividends and returns. As these companies invest more in nascent and sometimes less profitable green technologies, they must strike a balance between profitability and sustainability, ensuring they meet shareholder expectations while driving forward a more eco-friendly agenda.
Hydrogen: A Double-Edged Sword: Hydrogen presents a conundrum. On one hand, when derived from renewable sources like wind or solar, it stands as one of the cleanest energy carriers. However, the current dominant method of producing hydrogen—via natural gas—does emit greenhouse gases. Therefore, for hydrogen to truly be the "fuel of the future," there must be substantial investment in green hydrogen production methods, infrastructure, and storage solutions.
The role of regulatory bodies: Governments and international organisations can play a pivotal role in directing the trajectory of Big Oil's transition. By offering incentives for green energy investment or imposing stricter regulations on fossil fuel extraction and usage, they can significantly influence the pace and direction of change.
The "greenwashing" conundrum: As companies publicise their green initiatives, discerning genuine commitment from mere marketing ploys becomes crucial. It's imperative for watchdog organisations, the media, and consumers to critically assess these claims, ensuring companies are held accountable for genuine progress rather than just superficial gestures.
Collaboration is key: The collaboration between Chevron and Mitsubishi Power Americas demonstrates that forging partnerships across sectors and borders can accelerate the development and implementation of green technologies. Such collaborations can pool resources, expertise, and capital, expediting the pace of innovation.
Changing corporate identities: As traditional energy companies invest more in renewable projects, their corporate identities will inevitably shift. This will necessitate a re-evaluation of their mission statements, corporate values, and long-term visions, aligning them with a world progressively leaning towards sustainability.
A holistic approach to sustainability: Beyond just energy production, companies need to consider sustainability in a more holistic manner, encompassing supply chains, operations, and end-product disposal. This entails a more comprehensive strategy, where sustainability is integrated into every facet of the business.
******
For more energy insights check out the latest edition of Energy Digital Magazine and be sure to follow us on LinkedIn & Twitter.
You may also be interested in Sustainability Magazine and EV Magazine.
*********************************************
BizClik is a global provider of B2B digital media platforms that cover Executive Communities for CEOs, CFOs, CMOs, Sustainability Leaders, Procurement & Supply Chain Leaders, Technology & AI Leaders, Cyber Leaders, FinTech & InsurTech Leaders as well as covering industries such as Manufacturing, Mining, Energy, EV, Construction, Healthcare + Food & Drink.
BizClik – based in London, Dubai, and New York – offers services such as Content Creation, Advertising & Sponsorship Solutions, Webinars & Events.